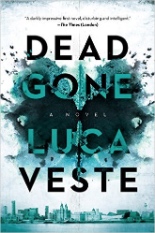 DEAD GONE, the debut novel from by Luca Veste, editor of two previous story anthologies, is a generally impressive and inventive work. The crime tale involves the hunt for a shadowy serial killer while commenting on important but often neglected themes. Sadly, however, Veste's constantly shifting perspective prevents this debut from being totally satisfying.
The body of a young woman is found in a park in Liverpool, England. The case goes to veteran homicide inspector Detective David Murphy and his new partner, Laura Rossi. They quickly discover that the murder victim was a student at the City of Liverpool University.
A note from the killer is found attached to the victim's body. The note refers to a notorious psychological experiment that the killer claims was replicated on the victim and caused her death. But Murphy and Rossi dismiss the note as a distraction.
Before long other similar victims are found, each with notes from the killer referring to psychological experiments in isolation and depravation. Murphy and Rossi can't help but conclude that they are searching for a serial killer – a killer whose sadistic methods are unlike anything they have ever experienced before.
That Veste chose a non-traditional structure for his narrative is evident from the opening pages. Details about one of the female victims are presented in an ambiguous and somewhat disorienting manner. Then an immediate sense of confidence comes when the story focuses on the two detectives and the early moments of the investigation.
But this confidence is short-lived. Veste constantly shifts the perspective focus from the investigation to personal notes apparently kept by the murderer, and then to past events concerning the boyfriend of one of the victims and how he reacts to the sudden disappearance of his girlfriend. Events, interior observations, secondary characters, and facts pile up with each succeeding section making the narrative a challenge to follow until we return to Murphy and Rossi's investigation.
To his credit, however, Veste gives some emotional depth to Murphy as we learn of a personal trauma he suffered and his less-than-perfect investigative record – all of which put his leadership of the current investigation in constant doubt. (Veste tries to give background to Rossi as well, but gives up after a few paragraphs.)
We also learn that Murphy spent his whole life in Liverpool. And Veste, a Liverpool resident himself, provides several insights into the city's rich historical past; effectively making the setting much more than just the birthplace of The Beatles.
There are also discussions and speculations from several characters on such evasive topics as the role of death and grieving. Such subjects are inevitable in crime fiction, yet seldom dealt with except for very brief instances.
Unfortunately, these strengths are hidden in the midst of all the perspective shifts. And as our faith in the narrative is at such a low point, any intended shock at the revelation of the murderer's identity is significantly reduced.
Veste even has difficulty with his new role as author. In an odd post-epilogue section, Veste details the history of serial killers and their popularity in contemporary crime fiction. This would be perfectly fitting as the introduction to an anthology of serial killer stories. Here, however, it feels intrusive and serves no other purpose than to overstate the obvious.
With luck Veste will devote a little more time studying the structure of crime novels before attempting another work. Murphy and Rossi have the makings of a successful series – once Veste realizes they are strong enough to carry a story by themselves. —Alan Cranis