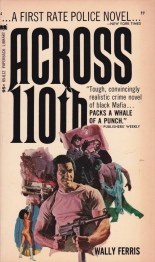 Back from holiday hibernation, the mighty BBB&B column arises, sort of like the Kraken … or at least Kraken Rum. I recently ventured back into the book-buying world and found a few used treasures, one of which I've been on the hunt for.
So for those who have missed my finds, we'll kick things off with a book that has its own theme song. All right, so it's the movie they made from it that has its own theme song, but it's a damn fine one.
ACROSS 110TH by Wally Ferris — First and foremost, let's enjoy a great number by Bobby Womack to set the proper mood. For those more familiar with the movie, they followed the 1970 book pretty much, but of course changes were made, including some portions dropped.
The story deals with a mob pick-up of money in Harlem that becomes a blood bath when two "cops" arrive and take the money. This sets up the action for the story, all of which is told rather quickly. The book seems to take place over the course of two days, as two detectives — one white (Sullivan) and the other black (Pope) — are given the job to find the hold-up men, who also killed two cops in the process.
But these two detectives are not the only people looking. There's a mob enforcer who has been rising in the ranks who wants revenge and the money, and he truly loves the fact that he can use any methods possible. The writing is fast-paced and even though I know the movie fairly well, Ferris peppers the book with a few more twists and turns than expected.
Yes, there are the moments of racism that were part of the movie, though the tension between the two detectives never comes through. But again, this is a book where characters can breathe and aren't crammed into a two-hour time frame. There are other subtle differences that readers will notice, while the endings come very close to one another. It's a solid read throughout and definitely one of those finds I'm thrilled to have finally come across, especially on the cheap.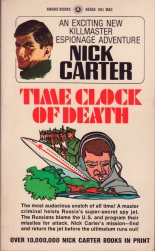 NICK CARTER: TIME CLOCK OF DEATH by Nick Carter — As I've stated this, there are two kinds of Killmaster stories: ones based in reality to a point and the others, which throw all logic out the window. This 1970 series entry is very much based in reality. It's the first time I've ever read characters talking about birth control — a woman, no less!
This story is also one where Nick Carter is thrown into the deep end and has no leads after the first chapter. A superjet from Russia is hijacked out of the U.S.; Russia points fingers at the U.S. as the culprits. It's up to AXE and their superspy, Nick Carter, to find and retrieve the jet.
The book is definitely a step above James Bond books in the believability factor. But toward the end, it just goes all nutty — the way most Carter books go. Along for the ride is a female AXE agent Nick has worked with before and has a "connection" with. TIME CLOCK flies by at a clip, like most Carters do. At some points, you might have to reread a passage or two just to make sure you're not missing anything, since bodies drop as fast as they are introduced.
The evil mastermind behind the plot is The Colonel and his lady friend, Fancy. They both have certain inclinations, but we only read of Fancy's taste for whips and leather. It all builds to a climax at a massive castle that is right out of over-the-top-ville. Real simple: You really can never go wrong with a Killmaster book. I prefer the pre-'80s ones, since they are really short reads. And easily digestible, so to speak.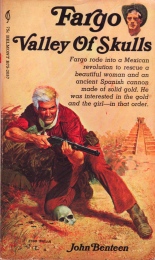 FARGO: VALLEY OF SKULLS by John Benteen — Sometimes a cover blurb sells me on grabbing a book, and this 1970 one delivers on all counts. The story deals with what could best be called a solider-of-fortune type named Fargo, a man who is always looking for the next big payday, be it cockfights or a little gunrunning.
Fargo is given a proposition he can't turn down, mainly because there are eight Pinkertons there who will make sure he gets to New York City for a business meeting. There, he is offered a job by a man named Stoneman: going into the southernmost part of Mexico to escort Stoneman's son's expedition party. Fargo is only told that he must bring back their finds; the people are less important.
Fargo is sent on his way and runs into people from previous entries in the series — a bit of loose ends being tied up in violent ways, I get the feeling. But then the book moves rather quickly and once he arrives at the expedition, after fighting off some bandits, Fargo finally discovers the truth behind the trip: a solid-gold cannon that has been talked about for years over the campfires.
It becomes apparent that Fargo and Stoneman's son don't see eye-to-eye, but if you've read any Western or action tale, you'll see these plot points coming. Still, VALLEY OF SKULLS is a total surprise. The story itself is basic, but has this feel of an old- school pulp adventure. This is definitely a series I'll be on the hunt for, if the others are as enjoyable.
Fargo is the kind of character who easily could be compared to those movies with Richard Chamberlain as Allan Quatermain, but with more violence and a little sex. Now, of course, this paperback's surprises can be seen pages away, but you'll let them slide since it's a fun romp of a read. Benteen is actually one of the pseudonyms of Ben Haas, who wrote a variety of Western adventure books, as well as headier stuff, under his own name. —Bruce Grossman