This week's column title is the soundtrack to this column. While reading all three books for this entry. I was dealing with two cats who think my bed is actually theirs; they will both lie on it day in and day out, snoring louder then any of my roommates I've had since college. We are talking locomotive-type snoring. Still, it's a steady rumble of a noise.
THEY SHOOT HORSES, DON'T THEY? by Horace McCoy — Being more familiar with the movie that was made from this 1935 book, I've been on the hunt for McCoy's novel for years, to no avail until the Kindle. I'm amazed how truly dark and existential it truly is, even if I knew the outcome and what to expect.
The book focuses on the dance marathon craze of the Great Depression. We are introduced to two characters who are trying to make it into the movie business, Robert and Gloria. The whole of the story is narrated from Robert's point of view. Even at the start, you know something terrible happened since he is awaiting his sentencing, and Gloria, a lot darker than in the movie, has a death wish from page one and throughout the dance marathon and the derby races they have to endure. She continues in this cycle, fighting with other couples (including one with a pregnant dancer) and sleeping with the men in charge so she and Robert can get any sort of advantage. Robert has dreams of being a movie director and sees this as his shot to get seen and known.
Again, the book is super-dark and its short length explains that these are people who are truly just scraping by. Once it's all said and done, the only ending that could happen does. McCoy really turns the screws so to say on these people. If the movie had stuck even closer to the book, wow, would that have truly been a performance from Jane Fonda.
FALLING ANGEL by William Hjortsberg — Harry Angel is a private eye whose career is nothing too special, so when he is contacted to track down a missing person, he snaps at the proposition. His client is a man named Louis Cyphre. Yes, the 1978 book pretty much hits the reader over the head at some points, but in actuality, it's a pretty little, hard-boiled tale that keeps the readers guessing until the end.
Angel is hired to track down Johnny Favorite, a crooner whose career was on the rise before the outbreak of World War II. The last anyone heard from him, he was wounded in combat and supposedly bedridden in an upstate hospital because of his mental condition. If only the case were that easy for Harry. As soon as he starts to dig, the requisite troubles start. It seems every person that Harry seeks for help in locating the missing singer winds up dead, in brutal ways. The case takes Harry into the world of the occult and voodoo.
Hjortsberg keeps the readers glued to the page, that's for sure. For a story that takes place in 1959 and all set in New York, it's filled with some horrific surprises along the way. Once Angel finally puts all the pieces together, there is still more horror to come. The 1987 movie ANGEL HEART was based on the book, but they supposedly changed things around and even moved most of the action to the deep South. I'm just curious if they kept the final shock.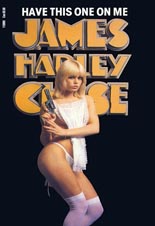 HAVE THIS ONE ON ME by James Hadley Chase — Closing out this column is the return of the writings of Chase. I thought this 1967 book was the first one to feature his character of Mark Girland, but it's actually the third. Still, it was pretty easy to pick up the type of character Girland is.
This book screams big-screen Eurospy fun. I'm talking packed to the gills with all sorts of awesomeness: a failed escape out of Prague, gorgeous women, double crosses and secret documents. It never falters, that's for sure. After the opening chapter, where we watch a failed attempt to free a defector from the Iron Curtain, HAVE THIS ONE goes into a web of lies and confusions and double dealings, all of which will make sense to readers as things progress.
Girland is called upon by a man who has a deal for him: to simply go into Prague and pick up some money that's been safely hidden. Girland is suspicious, but some quick cash for what should be an easy job is nothing to pass up. Well, that's where he's wrong. It's then the reader finds out the whole truth: that Girland is being set up to be caught with papers that will get him in deep trouble.
The story just builds upon this. Being the third book of a series, it becomes obvious that Girland has burned a few bridges, so being set up comes as no surprise once he figures things out. There is so much going on here, you might want to take notes; just be sure to start crossing off names as they drop off. This was a blast of reading. Damn, I wish I started with the first one, THIS IS FOR REAL. Well, a future column, perhaps. —Bruce Grossman