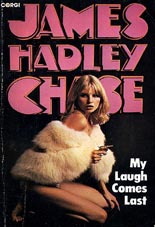 No, not that kind of woman problems. The kind where they make a man do stupid things. That is the basis for this column. We have a trio of authors I've covered before, with one writing under another name. But now with ebooks, the truth is known. So sit back and take a gander at all the headaches these gentlemen get themselves into. But the third book is bit more women-centric — nudge, nudge, know what I mean, say no more.
MY LAUGH COMES LAST by James Hadley Chase — Chase was one of the more prolific authors out there, writing under a variety of pen names. And the books would feature very lurid-looking models to grab readers' attention. Well, that works for me.
The story to this 1977 outing is one we have seen before: Larry Lucas is recounting his life and how it was a chance meeting that made his life a mess. While out on a golf course, he helps out a fellow golfer who he finds out is one of the richest men in the area, Farrell Brannigan.
Brannigan sees talent in Larry and offers him a job of working on a new bank in town. Now, this being one of those crime caper books, here come the plot points we all know and love. Larry meets a woman named Glenda and falls for her like a sack of wet cement. But it's all a set-up. Glenda is being used by a man named Klaus who wants to rob this new bank while also getting revenge on Brannigan.
Again, these are plot points that have been done before, but Chase has a little surprise for the readers as the book hits its climax. Will Larry help out Klaus and his group of thugs? Is Glenda really all that worth it? Look, the book takes no time to read and its floating around in the ebook universe. The one thing this story reminded me most of was the 1948 movie CRISS CROSS and its remake, Steven Soderbergh's THE UNDERNEATH. I've got plenty more Chase books on the new ereader, so let's see what else can happen. And yes, that's the cover to the ebook version I read.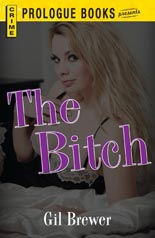 THE BITCH by Gil Brewer — I'm a big fan of Brewer's writing. Hell, I'm blurbed on a few of the recent reissues that Stark House Press has put out. But now in the world of ebook readers, it's a little easier to find some of his work.
1958′s THE BITCH is a fine excursion into Brewer's world. But as fine of a story as it is, it's not the great stuff, so to speak. But then, Brewer's good is better than some others' best. The story focuses on a man named Tate Morgan, a loser who has relied on his brother for most of his life until he helps out on a robbery where Tate has the money and most of the crew are now dead. Typical Brewer subject matter.
Things take that super-quick turn into nightmare land once Tate goes home to his wife, the aforementioned bitch of the book. But really it's not until the final chapter where that aspect of her shines through. Most of the story deals with Tate dealing with people who want a cut of the money while he is trying to track down his wife who ran off, most likely with the cash.
It's a super-quick read. But there are no real shockers when the payoff comes. Still, I'd much rather read a Brewer book like this any day than some way overrated current authors who seem to mine the same material book after book, and worse, totally losing all perspective of reality when it comes to their characters. There are a few other Brewer books out there in the world of ebooks, thanks to the folks of Prologue Books.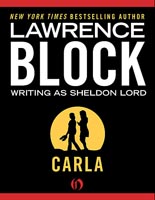 CARLA by Lawrence Block — Carla was a girl who came from a Polish slum in a small town. She is by no means a virgin, as she explains, but even though she is married to a very rich man who has showered her with gifts, there is one big issue: The hubby can't deliver, if you catch my drift. So this leaves Carla very frustrated.
The 1961 novel follows Carla as she finally explores her sexual desires. There is nothing graphic in the book, but for its time, some portions would be a little shocking. But more on that later.
Carla first tries out a local mechanic named Danny Rand. (Yeah, all you Marvel fans out there, the image of Iron Fist was going through my head through the whole book.) Carla is determined to have a quickie and never see this man again. But Danny has other ideas tracking down Carla. Now, this section might have raised a few eyebrows, since while waiting, Danny is seduced by Carla's black maid. But where was Carla? Oh, she was off sleeping with one of her husband's business associates, who is just using her for his own enjoyment.
The book pretty much goes on like that for the run. Hell, even the husband doesn't mind, since he can't do it himself. This is super-early Block writing under the name of Sheldon Lord. In the afterword, he points out this is one of the first books he actually got published and admits that he should have used his own name, since there is nothing to be ashamed about in the book. There is a whole line of these Block novels that have been reissued in the ebook format. Ah, technology. —Bruce Grossman