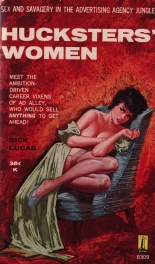 Let's get right into the meat of the matter: This week's column is all about the female persuasion, be they college friends, a office worker or even "just" a blonde. There is nothing quite like the ladies, and if these books don't live up to the what the covers promise, at least the art is cool.
HUCKSTERS' WOMEN by Rick Lucas — Think of this 1954 book as the real MAD MEN, since it revolves around a group of women who work for an advertising agency during the 1950s. Surprisingly, some portions read like the TV show, with all the backstabbing and seducing. But to be honest, just stick with the TV show.
Wow, did this book not live up to the cover hype. (Do any?) The novel deals with the company in the process of a takeover, with one man in particular trying to get all his ducks in a row to either jump ship to get in on the ground floor, or find a way to get himself promoted by any means necessary. It's such a snooze that it will leave the reader asking, "Why do I care?"
The women have the body type of Christina Hendricks, which is a plus, but sadly, all the sexy parts promised are mostly the women touching their own breasts and thinking how those parts can help them in any situation. I wish I was joking, but I'm not. The ladies are pretty much used as pawns only to serve.
When the climax — if that is what you could call — happens, you'll think, "Well, that was a load of crap." Wow, ad agencies steal ideas and clients from one another? Next, you're going to tell me cigarettes are bad!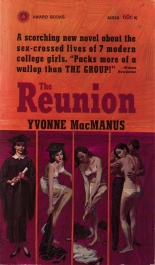 THE REUNION by Yvonne MacManus — When you can figure out the whole plot before the first page is done, you have no one to blame but yourself if you read the whole thing. That's exactly what happened in this 1965 one.
There's a college reunion for a certain set of girls who all graduated in the 1950s. Here's the giant spoiler: lesbians. That's exactly what the book breaks it all down to, but not before 90 pages of bullshit. Some of these women have gotten married; some are happy, while others are looking for an out. Once the booze kicks in, all the inhibitions are gone, as we watch what is pretty much the frump of the group get seduced by a full-on lezzie.
The book goes on like this for another 40 pages, but it's some of that moral bullshit to make it seem like it's not geared toward the flannel brigade. This is done by making the frump's husband a monster who cheats and beats women. The whole thing is a giant waste of time and about as believable as a PENTHOUSE FORUM letter. Maybe for its time, it might have been shocking, but today, this would barely raises a pulse.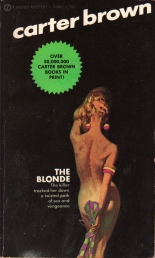 THE BLONDE by Carter Brown — All you need to know about this 1958 entry is that it's prime Carter Brown, set in Hollywood. Longtime series character Lt. Al Wheeler is given the task to look after a former star, Georgia Brown, who is about to drop an atom bomb of info.
See, years ago, an actor by the name of Lee Manning supposedly killed himself. Georgia has contacted a broadcast reporter so she can go on live TV and tell the whole truth of what happened. But even before chapter one finishes, someone finishes Georgia.
It's up to Al to put the pieces together, and why a person who had as much to lose was about to go public. The book is light and breezy, and takes no time to read. I mean, is there really anything else I need to tell you? Carter Brown: Buy it, but not for those overcharging on the price. —Bruce Grossman