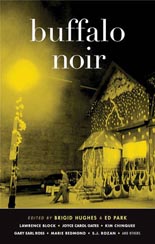 Buffalo, New York's second largest city is the latest destination in Akashic Books on-going series of original short crime fiction anthologies based on a national or international locations. And while the town is nowhere near as well known or celebrated as its larger neighbor, the stories in BUFFALO NOIR result in one of the most impressive and memorable of Akashic's many NOIR collections to date.
In his unusually structured but evocative introduction, co-editor Park recalls one particular incident of his youth in Buffalo that proved there were darker things happening beneath the quiet suburban surface of his hometown. He and his partner have solicited several well-known crime authors, as well as a few lesser-known but no less talented scribes, to create stories based within the various section of this eastern U.S. locale.
Not surprisingly, the most striking of these stories effectively incorporate the ambiance of the city within the narrative. One standout example is "Valentine" by Joyce Carol Oates, a moving and evocative story of a lonely teenage girl recalling a night after Valentine's Day in 1959 when her algebra teacher unexpectedly showed her the wonders of life in Delaware Park in the midst of a crippling snowstorm, so common to the area. Oates has fictionalized Buffalo in many of her works, as Editor Park notes in his Introduction. Here, however, she evokes the town as is.
In "The Bubble Man of Allentown" Dimitri Anastasopoulos tells a moody, somber tale of a crime scene investigator who returns to work after a brief suspension and realizes how much the city has changed, and also senses the gloom that accompanies all the quirky characters in his Black Rock neighborhood.
Lawrence Block is usually associated with New York City. Here, however, Block presents another of his Ehrengraf stories based in the city of his birth. An influential businessman in the well-to-do section of Nottingham Terrance hires the immaculately dressed attorney Ehrengraf to defend him in what appears to be the self-defense shooting of a young black boy in "The Ehrengraf Settlement." But Ehrengraf senses the actual truth behind the killing and sets out to reveal it.
"Parkside," by S. J. Rozen, is a brief but lingering story of how a teenage boy battles the claustrophobic boredom of his life in a North Park apartment building by tormenting his younger cousin living in the building next door – until the taunting results in shocking consequences.
The dozen contributions include new stories by Kim Chinquee, Gary Earl Ross, one by Editor Ed Park, and others. Like all previous titles in the series, brief author bios and listings of their notable works are included in a section following the stories.
The prevailing tone of this anthology is accurately described by Park in the Introduction where he notes, "This book is full of shadows and secrets – and everywhere around it seems to fall the snow that Buaffalonians aren't just used to but are defined by: beautiful, elemental, sometimes deadly."
Regardless of any unfamiliarity with the city, BUFFALO NOIR should be added to the pile of books on the side table of all crime fiction fans, especially those who admire contemporary noir. As the Editors prove, the "shadows and secrets" displayed here rival those of any larger or better-known urban locale. —Alan Cranis