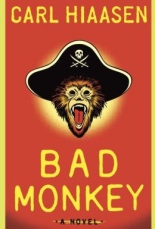 With 12 previous novels to his name, some of which have become big best-sellers, we know what to expect from BAD MONKEY, the latest from Carl Hiaasen.
A near-surreal incident that sets off the narrative? Check. A large cast of quirky yet credible characters who play fast and loose with the law, as well as with each other? Got that. Satiric jabs at the unchecked development of the author's beloved Florida coast? Sure thing, only this time it extends to the Bahamas as well. They are all here, yet Hiaasen makes them seem as fresh, funny, and innovative as though we were encountering them for the first time.
During a fishing trip in the waters near Key West, a tourist finds a human arm at the end of his pole. Andrew Yancy, a former Miami cop currently on suspension with the Monroe County Sheriff's Department, is assigned to haul the limb to the coroner's office in Miami. But Miami dismisses the arm as the result of a boating accident and refuses to investigate further, or even keep the arm. So it ends up in Yancy's freezer.
 
He doesn't buy the boating accident explanation, and sets out to find the truth behind what could be a murder case. He hopes that by solving the murder, he'll get his old job back and dump his current gig as a health inspector (the "Roach Patrol").
Yancy soon encounters an oddball mix of relatives and others involved with the victim and the possible murder. These include the victim's scheming ex-wife and greedy daughter, a couple of disparate real-estate speculators, a Bahamian voodoo witch, a gorgeous but kinky coroner and even the misbehaving monkey from the novel's title who has a reputed but questionable Hollywood pedigree.
 
Hiaasen sets everything in frantic motion from the opening sentence of the first chapter, and lets up only long enough to provide backstory exposition on each of the main characters and several secondary ones as well. Fortunately, he never loses focus on the story, so these bits are more informative than distracting and bring us quickly back to Yancy's investigation and its growing complications.
 
The author has mastered a reportage prose style that is friendly while being factual. He even manages to soften the most brutal and graphic moments of violence with dark and irresistible humor. As is often the case with his novels, you find yourself laughing out loud at what would otherwise be extremely painful or dangerous moments.
 
If there is a drawback at all to this, it is the effort Hiaasen devotes to tying up all the loose ends after an explosive resolution. The 60-plus pages that follow are less energetic, but nonetheless contain some additional plot twists worth sticking around for.
 
Hiaasen fans will welcome all of his familiar fiction traits like an old, reliable and always entertaining drinking buddy. Newcomers will find BAD MONKEY a competent introduction into the author's skewed but well-intentioned and unique world of crime fiction.
 
When these same newcomers search the paperback section for Hiaasen's earlier works, they'll find they are all short on titles (never longer than two words), but always long on laughs. —Alan Cranis