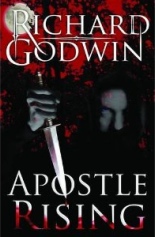 Richard Godwin's debut crime novel, APOSTLE RISING, is a dark police procedural in the vein of other current UK writers, in that it does an amazing job of sucking in the reader right away and never letting up.
Frank Castle never got over the Woodland murders from years earlier. All of a sudden, a new crop of killings starts, which may look like a copycat, but might actually be the original killer. Castle, who still thinks he had the right suspect all along, can't let it go and is determined to prove he is right. But when it comes to light that suspect has an airtight alibi, he is determined like a dog that won't let go of a stick.
The killings seem to be split into two groups: politicians brutally cut up and left with cryptic messages, and prostitutes who are not raped, but are cut to the bone. Godwin does a great balancing act, since we are mainly focused on the two police leads, and he takes quick asides as we see the victims trailed, then brutally killed.
Please note at the halfway point, there is one sentence which is truly one of the most disturbing and graphic you will come across this year. After that moment, the deaths are described in a more visceral language. APOSTLE RISING is a page-turner, but at points, it could have been trimmed down; after the first few killings, the reader understands the point, making repeated structures like overkill.
But Godwin is not finished. He throws in one more surprise for our cops to discover. For a debut crime novel, it makes a great introduction to Goodwin's style and talent for prose. Be on the lookout for hopefully many more. —Bruce Grossman