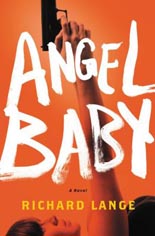 With only one story collection (DEAD BOYS) and one novel (THIS WICKED WORLD) to his credit, Richard Lange nonetheless has achieved the status of a crime fiction author whose work is revered by mainstream critics and is the recipient of fellowships and awards usually bestowed on far more prolific authors.
 
ANGEL BABY, his second novel and latest work, certainly will add to this noteworthy reputation. It's a gritty, contemporary and suspenseful story of redemption that calls the readers' morality into question as they follow the exploits of several varied, yet multidimensional characters.
Luz is the young and beautiful wife of El Principe, the feared and powerful leader of a Mexican drug cartel. After years of abuse, Luz stops taking the drugs that helped her disguise her suffering and decides to leave her husband and the luxurious mansion in Tijuana that has been her personal prison. She stuffs a Colt .45 pistol and cash from her husband's safe into a backpack and makes a hasty and unexpectedly violent escape into the night. Her destination is across the northern border to California, where she left a baby daughter a few years before meeting her spouse.
 
Luz makes some calls and eventually hires a burnt-out former surfer named Malone to drive her across the border. Malone has been eking out a living for the past several years transporting desperate people illegally into California, but senses something different and potentially dangerous about this job.
 
Before long, El Principe discovers the truth about his wife's disappearance. Overcome with rage, he springs a strong-arm associate named Jeronimo — known on the streets as El Apache — from prison and sends him off to return Luz to Tijuana.
 
Luz knows that her husband will stop at nothing to hunt her down and return her to his dictatorial rule. But she and Malone have no idea of the encounters and characters they must endure as they make their north out of Mexico and into California.
 
From the opening pages, introducing us to Luz and her pampered but restricted life, Lange thrusts us into the midst of a fascinating moral quagmire. Luz as first seems worthy of our sympathies, but we soon learn that she is the sole architect of her sorry predicament and displays a desperation that at times makes her indistinguishable from her criminal husband.
Each successive character we meet equally divides out allegiances. For example, while Jeronimo has a violent criminal past, we learn that he has left his former life behind and only agrees to assist El Principe when the drug lord threatens his wife and family.
 
As events unfold, Lange weaves the detailed backstory of each of his principles players into the narrative, and amazingly manages this without slowing the pace or disrupting the action. Also impressive is his depiction of the harsh contrasts between the lives of the rich drug dealers and the poorer residents of the tourist-supported town of Tijuana, as well as the lonely, mostly neglected spaces that occupy the northern end of Mexico and the most southern portions of California.
 
With its grim locales, ambiguous protagonists and somewhat meandering resolution (that at times seems unjustified), ANGEL BABY is not what you would call a "fun" reading experience. Yet these same complexities make it one of the most compelling and absorbing crime novels you are likely to read this year.
 
If it's your introduction to Lange, you'll quickly understand why he has earned such acclaim and why he is among the select group of crime-fiction authors (along with Richard Price, George Pelecanos, Don Winslow and others) whose work blurs the distinctions between genre and mainstream fiction. —Alan Cranis