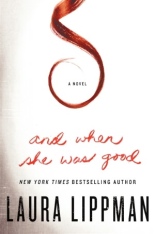 Laura Lippman fans first met suburban madam Heloise Lewis in the story "Scratch a Woman," included in Lippman's 2008 collection of short fiction, HARDLY KNEW HER. She obviously felt Heloise's full story was worth telling, and has made her the central character of her latest stand-alone novel, AND WHEN SHE WAS GOOD. Along the way, Lippman experiments with different structure and narrative styles. The results are surprising, yet completely satisfying.
Over the years, Heloise has worked hard to make certain her suburban escort service business is safe, secure and, above everything else, secret. Lately, however, all this is slowly unraveling. It starts with the breaking news of the death of a suburban madam in a nearby county — ruled an apparent suicide, but Heloise has her doubts.
Then she learns that Val, the low-level pimp she once worked for, might be released from his prison sentence on a trial technicality. That's especially worrying since Heloise helped put Val in jail several years ago.
But it's only the beginning of Heloise's problems. The vice cop who for years turned a blind eye to her business, and was her inside source to the local police, is about to retire. Her longtime accountant is asking disturbing questions. One of her employees breaks an honored and contracted trust, and another threatens to expose Heloise if she refuses to make good on a worker's compensation claim.
 
Heloise decides the only solution is to make a clean break and get out of the escort business. But before starts dismantling her firm she discovers frightening links to the death of that nearby madam and her own business, and suddenly fears for her life.
 
Lippman alternates the narrative between the present day events and Heloise's former life in the late 1980s and early 1990s. In the latter chapters, we witness the abuse and frustrations that lead Heloise to life as a prostitute and later, under Val's tutelage, the establishment of her own business. The former, present-day chapters are where we see how Heloise has kept her escort service functioning, even with her limited education and business knowledge, until things begin to unwind.
 
At first, the novel feels like a combined protracted character study and "Making of a Suburban Madam" documentary. Then, as the chapters of Heloise's early life approach the current day, the various threats solidify and transform the novel into a suspenseful story of misplaced trust, murder and headstrong survival.
 
Lippman has devoted most of her excellent stand-alone novels to more subtle, character-driven crimes. This, however, is the first time she has kept readers waiting this long before learning the central and motivating conflict of her character and story.
 
Yet, thanks to her superb subtle, but straight-ahead prose style and her probing character insights, Lippman makes the wait more than worth while. Along the way, we almost forget that Heloise's business is, in fact, against the law. Indeed, throughout the entire novel, our notions about sex, gender roles and especially the concept of sex-for-hire are challenged.
 
It's not every author who can take a slightly out-of-the-ordinary character portrayal and slowly transform it into a suspenseful, murder-laced page-turner — and challenge many long-held personal attitudes at the same time.
 
Lippman, however, is not just any author, as she has proven time and time again. In works like AND WHEN SHE WAS GOOD, she stretches the boundaries and definition of crime fiction while keeping traditional fans of the genre content and thoroughly entertained. —Alan Cranis