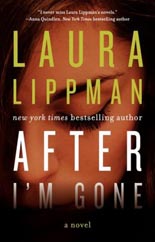 Families have always been an important component in Laura Lippman's impressive stand-alone crime novels. Some central crime always involves a family; how the family is affected by the crime supplies the story's emotional drama. In AFTER I'M GONE, Lippman pushes this family element forward and takes a different approach to the crime involved.
Felix Brewer met 19-year-old Bernadette "Bambi" Gottschalk at a Valentine's Day dance in Baltimore in 1959. Not long afterward, they were married. Felix runs a lucrative, illegal racketeering business, but always manages to keep his business affairs separated from his family.
Bambi and the couple's three daughters — Linda, Rachel and Michelle — never fully understand how Felix makes his money, but it is always enough for them to enjoy a comfortable suburban life.
 
Then, on July 4, 1976, Felix — newly convicted and facing prison — disappears with all his money. Stunned and saddened, Bambi suspects that Julie Saxony, Felix's devoted mistress, knows where he is hiding. When Julie disappears 10 years to the day, Felix went on the lam, everyone suspects that she has finally joined him — that is, until her body is discovered in a secluded wooded park.
Now, 26 years later, Roberto "Sandy" Sanchez, a retired Baltimore detective working cold cases for extra money, decides to investigate Julie's death. His inquiries reveal how everyone involved with Felix — his stoic wife, their three now-grown daughters and everyone else he knew and worked with — survived during the years following the disappearances. As he works his way through the years of resentment, betrayal and suspicion, Sandy finally uncovers the shocking truth of Julie's death.
 
Lippman transforms an otherwise mainstream story of a family surviving the disappearance of a husband and father into a crime novel through Felix's racketeering business and especially through the mysterious death of his mistress. Yet the focus remains less on the criminal characteristics and much more on the lives of Bambi and her three daughters in the intervening years following Felix's departure.
 
Because Lippman alternates the intimately detailed perspective between Bambi and each of the three daughters, along with various others involved in their lives, the resulting novel lacks the central focus and emotional intensity that distinguished much of her stand-alone works. This becomes particularly apparent each time Sandy has to explain why he has decided to reopen a case that has long since lost its dominance over the lives of all involved.
 
Yet it is impossible not to be impressed with the author's style as she depicts the multitude of shifting emotions and impressions of the Brewer family. The attention to the changing cultural references, the depiction of Lippman's beloved Baltimore, as well as the inner thoughts and attitudes of each individual touched by Felix rivals that of the most celebrated mainstream authors dominating best-seller lists.
 
Then the balance shifts again in the final quarter of the book, when Lippman decides the crimes involved need a sudden boost. By the time Sandy finds what may be the hidden truth behind Julie's death, and the novel abruptly quickens it pace, the intended effect is ironically deadened after so much time getting to know the Brewers and even Sandy himself.
 
Those who pick up AFTER I'M GONE hoping for a challenging game of whodunit will find their patience challenged far more than most crime novels currently available, including most of Lippman's earlier works. Yet this patience is rewarded at the end as she continues to evolve into an author worthy of any and all reader's attention and admiration. —Alan Cranis