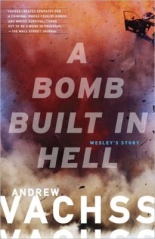 Back in 1972, attorney Andrew Vachss wanted to break into the novel-length fiction market. On the advice of his then-agent, he took his observations and experiences as a journalist and political activist, wrapped them in the perennially popular hard-boiled style, and produced his first novel, A BOMB BUILT IN HELL.
Publishers admired the prose, but roundly rejected the novel as unrealistic and its anti-hero protagonist as unacceptable. Vachss reworked his technique, while retaining most of his themes, and wrote FLOOD, the first of his Burke series novels that would established him as one of the most distinctive, influential and successful contemporary crime novelists in the field.
Now, thanks to Vintage/Black Lizard, we can read A BOMB BUILT IN HELL and trace Vachss's development as a crime novelist.
 
Wesley, the book's protagonist, has been on the wrong side of the law for most of his life. Busted for manslaughter and sentenced to prison, he meets convicted crime boss Carmen Trentoni, who befriends and protects the young Wesley, and teaches him all he knows about life in prison and the lessons to take with him when he re-enters life as a free man.
 
Wesley emerges from prison as the perfect hit man: resourceful, cunning, deadly and completely devoid of any emotion toward his targets. He seeks out Trentoni's ally, an old-school Mafioso named Petraglia, and together they carry out Trentoni's sworn vengeance to overthrow their criminal enemies. Their stature — and especially Wesley's reputation as a contract killer — grows to legendary proportions in the underworld.
 
Then, as old age overtakes Petraglia, Wesley explores his deep personal motivations and begins his own personal mission: targeting political targets and other power brokers. With the help of a reform-school dropout known only as The Kid, Wesley eventually develops his ultimate and most deadly scheme. Wesley knows it's likely to cost him his life, but the results will make a statement that will live long past his reputation.
 
Vachss fans will immediately notice the third-person perspective in this debut work. As Vachss himself comments in the opening note to this new edition, the switch to first-person narration was one of the major stylistic shifts he made as he developed a loner figure that readers could more readily relate to. The personal and often acidic observations that distinguish the Burke novels are sorely missed, but the prose nonetheless gathers unmistakable momentum as it traces Wesley's formative years and his violent career.
 
Often it seems the emphasis is more on the mechanics and tools of Wesley's various and increasingly complicated jobs than on the man himself. Yet as he ages and especially upon the death of his shifting mentors, he takes more time for introspection and comes to understand what life has denied him, and what truly drives him.
 
Perhaps most memorable, and sadly ironic, is that the events the younger Vachss presented that were dismissed by publishes back then as too unrealistic and downright ludicrous proved to be not only accurate, but frighteningly prophetic.
 
This is essential reading for all Vachss devotees. The ingredients for the author's renown are all evident here, and it is fascinating to sense how the alteration of approach and perspective would result in Burke and Vachss' unmistakable and reliable fictional voice.
For that, Vintage/Black Lizard, we thank you. —Alan Cranis