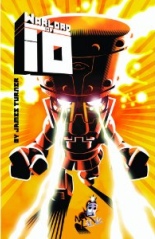 Illustrator and graphic novelist James Turner takes on damned-near every sci-fi, space-opera troupe imaginable in Slave Labor Graphics' WARLORD OF IO. While not altogether original, and at times uneven, the results are generally fun and a treat to the eyes.
Emperor Zoz suddenly decides to retire, and leaves the ruling of Io to his son, Zing. Young Zing, however, is a slacker much more concerned with playing his guitar and sharpening his video-gaming skills than managing an empire. But with the help and urging of his girlfriend, Moxy Comet, Zing immediately initiates a policy of peaceful coexistence with the surrounding colonies of the Jupiter Subsystem.
It's a radical idea, and one that Zing hopes will leave him alone to prepare for an upcoming video game match. But the general of the Ionian Army is outraged and launches a smear campaign against Zing and a military coup of Io. Zing and Moxy flee in one of Emperor Zoz's oversized space ships, pursued by the general's troops while the General schemes to overthrow the other colonies.
Using a combination of gamer experience and blind luck, Zing and Moxy outrun the general and, with the help and occasional guidance of some loyal underlings and mentors, eventually take back Io in time for Zing to realize his true destiny and responsibilities to his Empire and Moxy.
 
What his story and characters lacks in originality, Turner tries to balance with political and cultural satire. Most of it, however, is either heavy-handed and obvious or a bit too weighty for most of the novel's intended audience. Examples of both are when Zing performs before a panel that rates his music in familiar AMERICAN IDOL fashion and in scenes where the Ionian general learns how to finance his war through bits of creative deficit spending.
 
But the author's talent really shines in his playful but intricately detailed illustrations. Especially impressive are the long and medium-shot panels and pages crammed with all manner of creatures, machinery and obtrusive advertising and newscasts — creating a sort of BLADE RUNNER ambience, but with much more humor.
 
While slightly older science-fiction and comic fans will have to dwell a little longer on the visuals for true appreciation, there's enough in Turner's WARLORD OF IO to justify sharing the cost and passing it back and forth among the household. —Alan Cranis