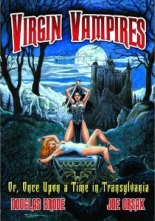 In their graphic novel VIRGIN VAMPIRES, writer Douglas Brode and artist Joe Orsak aim to be reverent to something irreverent: Hammer Films. Note I didn't say "irrelevant," which the horror flick purveyors of the UK certainly are not. Their influence can be seen right up to the present day — yes, even right now! — and not just in works such as this.
Anyone schooled in Hammer — even at an elementary level — can see that the duo has succeeded. Personally, having recently consumed the Blu-rays of the early 1970s' VAMPIRE CIRCUS and TWINS OF EVIL, I could see the stamp permeating every page: a heavy cloak of Gothic atmosphere, rich period details, tight corsets to best accentuate the cleavage …
The titillating title essentially tells four stories at two levels in one tidy book. We gets stretched-truth biographies of 15th- and 16th-century historical figures Vlad the Impaler and Countess Elizabeth Bathory, but with Victorian-era authors Bram Stoker and Joseph Sheridan Le Fanu as its protagonists. They assume the pseudonyms of a couple of Stoker characters, Van Helsing and John Seward — a fictional construct that Brode suggests birthed two works of now-classic fiction: Stoker's DRACULA, of course, but also Le Fanu's less celebrated (but no less landmark) CARMILLA. (The latter part is much sexier.)
To cry "anachronism!" is to miss the point of the book: to have fun. VIRGIN VAMPIRES does just that — not to any orgasmic degree, but as a perfectly entertaining read. Only occasionally do Brode's words crowd the page, and I appreciated Orsak's appreciated very colorful art. It's cinematic — especially in angles that know how to frame heaving bosoms — and changes distinctly for flashbacks, which makes the storytelling that much smoother.
VIRGIN VAMPIRES marks only the third graphic novel I've seen from McFarland Publishing thus far, but it's the best by far. (Andy Fish's myth-tastic anthology WEREWOLVES OF WISCONSIN runs a distant second, while Rocky Wood and Lisa Morton's WITCH HUNTS barely qualifies for third.) To be fair, from any publisher, this would be considered a good bet for fans of old-school horror mixed with the historical. —Rod Lott