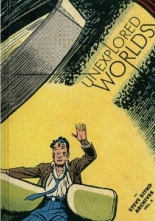 As rightly celebrated as Steve Ditko's work with Marvel Comics is — Spider-Man, anyone? — it's the non-character work of his early career I find most fascinating. Blake Bell threw the spotlight on those neglected stories two years ago with Fantagraphics' superlative STRANGE SUSPENSE: THE STEVE DITKO ARCHIVES. Now, he's back with the second in the series, UNEXPLORED WORLDS.
The hardcover collected nearly 250 pages' worth of sci-fi and horror material that sprung from the master comics artist's pen in the mid-1950s. The stories may not be amazing, but the art is what's worth dissecting; Blake's introductory essay even intersperses Chip Kidd-style microscopic looks at panels among words detailing Ditko's life at that point, which included a brush-with-death battle with tuberculosis.
Even if you've read the first volume, UNEXPLORED WORLDS offers plenty more surprises. For one, the first of dozens and dozens of story reprints is a MAD magazine-style humor piece about a terrible singer, from the pages of the short-lived FROM HERE TO INSANITY; for another, there's a pure Western yarn, from the "that existed?" title TEXAS RANGERS IN ACTION.
Whereas the first volume's material came culled from now-forgotten perodicals THIS MAGAZINE IS HAUNTED, BLACK MAGIC and SPACE ADVENTURES, this follow-up pulls from the likes of OUT OF THIS WORLD, STRANGE SUSPENSE STORIES, MYSTERIES OF UNEXPLORED WORLDS and TALES OF THE MYSTERIOUS TRAVELER.
From there, we get colorful tales of a seemingly indestructible circus performer, a radiated scientist, a painting that doubles as an entrance to another dimension, a not-so-unfamiliar spaceship stowaway, steaks of unusual origin, the fabled Flying Dutchman ghost ship, prehistoric creatures emerging from an icy mist, a would-be Nostradamus, visions of a mermaid, one very special mule and many an alien race.
While the "twists" rarely match up to the initial imagination of any given piece, Ditko's art is solid throughout. As always, Fantagraphics' top-notch presentation makes the publisher the go-to stop for comics preservation. Only one complaint: The contents page is almost impossible to read; you will require a high-beam flashlight. —Rod Lott