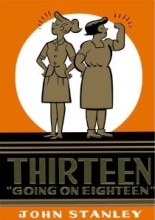 An all-but-forgotten teenage comic book from the early 1960s gets collected in THIRTEEN GOING ON EIGHTEEN, VOLUME 1: THE JOHN STANLEY LIBRARY, and I wish I had known about it before I was going on 40. This is a warm, wise and wonderful series.
It may not share the name value of Stanley's other efforts, such as NANCY or MELVIN MONSTER, but it should. Indie cartoonist Seth, who once more designed this handsome addition to Drawn & Quarterly's line of Stanley's work, provides a thorough introduction, in which he pegs THIRTEEN's two female protagonists as like ARCHIE's Betty and Veronica, only better. He's right.
At the forefront of THIRTEEN are Val and Judy. Val is the skinny, pretty blonde who's boy-crazy. Her girl-next-door looks belie an immature, physical awkwardness that occasionally brims to the surface. Judy is the fat, homely brunette who's not-so-boy-crazy. The apple of her eye is food, and preferably not apples. This characterization may not be 100 percent politically correct in this day and age, but she's not an object of ridicule; Judy's tough-minded and can take care of herself, plus she magically drops dozens of pounds between two issues.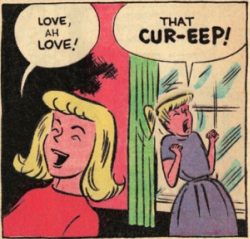 Each of the nine issues within begins and ends with super-short, conventional gag strips, bookending a few longer stories. As Seth notes, very rare is it that the characters leave their houses. Much of the action takes place under the roofs of their suburban homes, with many of the plots involving various friends coming over — or not coming over, as with the "are they or aren't they?" relationship between Val and her neighbor, a friend since childhood. Rather than make things boring, the fairly confined settings endear the girls to the reader; you grow to feel as comfortable in their surroundings as they.
Val's sporadic clumsiness aside, these stories aren't slapstick; the humor comes out of believable situations that occur every day … well, at least if you're still a teen around whom the world still revolves. We all remember what it was like to struggle with acceptance and other pangs of adolescence. I don't mean to make Stanley's work sound deadly serious, but it operates from a level that's entirely relatable. Although situations are slightly exaggerated for the medium, they could happen. (My daughter's only 10, but I see more of Val's drama-queen antics in her each week.)
I trust you'd agree. Those hungry for excellent, but neglected comics from their heyday should invest in this one. The more, the merrier … not to mention a chance at a second volume. At 336 pages, it's a meaty read that you'll be all to pleased to get lost in for an entire afternoon. In other words, an absolute joy. —Rod Lott
OTHER BOOKGASM REVIEWS OF THIS AUTHOR:
• MELVIN MONSTER, VOLUME 1: THE JOHN STANLEY LIBRARY by John Stanley
• NANCY, VOLUME 1: THE JOHN STANLEY LIBRARY by John Stanley