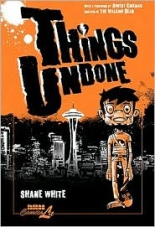 Poor Rick Watts. The young video game designer's job is unfulfilling. His love life is in shambles. And to add insult to injury, he's falling apart.
No, really, he's falling apart. As in, his eyeball pops out and he has to retrieve it from the playful paws of his pet cat, and some dog on the street bites his foot clean off at the ankle. Somewhere along the way, his nose vacates his face for no good reason. It's all in THINGS UNDONE, a rather unique graphic novel by Shane White. It's kind of pegged as a zombie book, even though it's not, and that's even with WALKING DEAD creator Robert Kirkman providing the introduction.
For one thing, no one notices Rick's physical foibles. Nor he does he covet a brain buffet, because he's very much alive. Oh, he's dying on the inside, all right, as he nurses a broken heart, but the book's conceit of the undead is strictly metaphorical.
And much fun. White's humor is pretty lighthearted, considering the subject matter, darkening only until the end when Rick acquires a handgun and contemplates suicide. It's tough to get too down, however, by a book whose every page is colored in pumpkin-orange. —Rod Lott