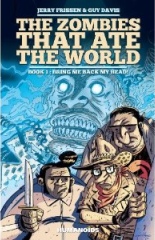 I grew up enthusiastically enjoying both George Romero and Dan O'Bannon, but after the last decade, it's difficult to get excited about anything zombie-related. I still enjoy some of the current batch of books, movies and comics, but it's just not what it used to be. Am I too old and jaded? Or is the product just lacking punch?
Enter THE ZOMBIES THAT ATE THE WORLD. Written by Belgian Jerry Frissen and illustrated by Guy Davis (of B.P.R.D. fame), this is a spectacularly entertaining book. Set in Los Angeles in 2064, long past the zombie apocalypse when both the living and the dead co-habit the planet. The dead are semi-harmless, and some of the living seem more brain-dead than their moldy counterparts. 
While there's occasional mayhem, what makes the book stand out is its pitch-black sense of absurd humor. The stories — and this is closer to a collection of closely related short stories than a full-blown novel — can be veer from poignant to slapstick at the turn of a dime, and the charmingly cartoony artwork (à la Darwyn Cooke or Jordi Bernet) manages to underline those tonal tweaks with casual mastery. 
What this reminds me of most is vintage Joe R. Lansdale. I laughed out loud, I was moved, I observed some biting oddball social commentary amid the offbeat group of hicks and socialites that populate this inventive, fresh and utterly delightful book. And I'm equally happy to note that the second hardback volume, THE ELEVENTH COMMANDMENT, is coming out next month. Highly recommended. —JT Lindroos