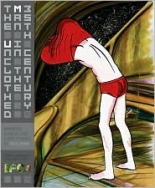 Just what is Dash Shaw on? And may I please have some?
In his second book of the season (the other being BODYWORLD), the oddball indie cartoonist offers a little this and a little of that in THE UNCLOTHED MAN IN THE 35TH CENTURY A.D., an anything-goes anthology quite attractively packaged by Fantagraphics Books, right down to the transparent, animation-cel-esque jacket.
First up is the titular UNCLOTHED MAN, who exists in a series of animated shorts on IFC.com. Here, we get sketches, storyboards and a serialized strip adaptation of the sci-fi story, in which Rebel X-6, a human-looking droid spends time as a nude art model while pursuing his mission of sucking up a satellite with his black-hole mouth.
Yeah, it's different. Yeah, it's awesome. Like a mix of 2001: A SPACE ODYSSEY and, well, nothing else that yet exists, it's an unsettling exploration of nonlucid, dream-state storytelling, complete with an LSD color scheme. It's interesting to compare the storyboards to the strips; none is more successful than the other at capturing your awe. My only problem is I wish Rebel X-6's adventures didn't stop here. (They don't if you take the 10 minutes to watch the web series, although one wishes a DVD of them were included with the book.)
The remaining 80 pages are odds and ends of Shaw's work, mostly culled from issues of MOME, all cut from the artist's one-of-a-kind-cloth of outlandish ideas, toying structures and imaginative execution. "Look Forward, First Son of Terra Two" is a dual storyline of a man from 9863 and a girl in 2029. He's color-coded blue; she, yellow — and the mindbending number follows both as they interact while simultaneously move backward and forward, respectively, through time. BENJAMIN BUTTON has nothing on this.
Color also figures heavily in "Satellite CMYK," in which people are held sequestered by age groups on a satellite in space, for unspecified sinister purposes. The multiple characters' stories are distinguished by having the panels bathed in pure cyan, magneta, yellow and key black, accordingly.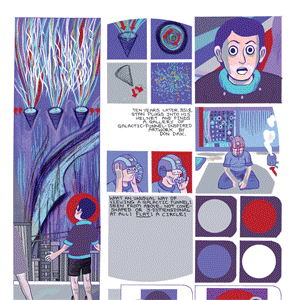 An untitled piece covers the career of one Stan Smart. In the early 3500s, inspired by the beauty of "the galactic tunnels," he embarks on a career as an artist of circles, and is lauded for his genius. (Circles get further ado in a later, also-untitled work that seems inspired by the making of James Cameron's THE ABYSS.)
Following is "Cartooning Symbolia," which imagines a doomed love story between a woman and a pig-man as it pokes fun at tropes of comic-book illustration, with increasing absurdness. With purposely overblown melodrama, Shaw imagines "My Entire High School … Sinking into the Sea!" and then presents a purported adaptation of an episode of the trashy BLIND DATE reality series. Like I said upfront, anything goes.
I'll admit that in my first exposure to Shaw — the Stan Smart story, in BEST AMERICAN COMICS 2009 — I didn't quite get it. His approach baffled me; his appeal escaped me. That all changed immediately with BODYWORLD, which is a stunning graphic novel. Much of UNCLOTHED MAN is stunning as well, but not to the uninitiated. This one's for the already unconverted. —Rod Lott
OTHER BOOKGASM REVIEWS OF THIS AUTHOR:
• BODYWORLD by Dash Shaw