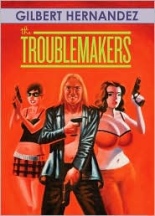 Gilbert Hernandez's THE TROUBLEMAKERS is pegged as "a LOVE AND ROCKETS book," but only in a spin-off sort of way. One of the L&R characters, Rosalba "Fritz" Martinez, is an actress in B-movies, and THE TROUBLEMAKERS is one of them. Meta enough for you?
Fritz is the most, er, eyecatching characters of late in the L&R stories I've read, for two reasons: her giant, enormous, huge, bountiful, life-giving breasts. Here, given this is supposed to be an exploitation film, they're used to great effect — hell, they're practically a character of their own.
THE TROUBLEMAKERS centers on three people: Nala (played by Fritz), a former magician's assistant; Wes, a young, wannabe rock star; and Vincene, your standard woman-on-the-run from … well, something. Story's not a strong point, and I think that's intentional.
The characters cross and double-cross one another; allegiances sway back and forth like Nala's pendulous rack. One moment, they're fighting; the next, they're fucking — what drives it all is a big MacGuffin. You're not supposed to care what it's all about, so you don't. You just strap in for the action-movie ride.
In Hernandez's hands, it unspools on the page like a Russ Meyer production, from the in-your-face nudity, right down to the cartoony violence played for laughs. For the best example of the latter, check out what happens with the stray bullets near the close; for the former, the poisoned-nipples scene speaks volumes.
Heightening Hernandez's cinematic intentions is having each and every page outside of the title one sliced into four widescreen panels. It may not be an essential work, but it sure is fun. —Rod Lott