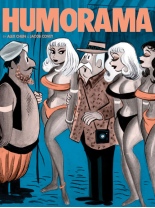 Simply put, if you've enjoyed any of Alex Chun and Jacob Covey's series of glamour-girl cartoon retrospectives they've assembled for Fantagraphics over the years, you'll want — if not need — their latest, THE PIN-UP ART OF HUMORAMA. It is not, as I first feared, a "best of" from their volumes centered on Dan DeCarlo, Bill Ward, Jack Cole and Don Flowers.
In fact, while you get more of the same from those guys, you get much more from other artists who never merited their own volume, but worked for the men's humor digests throughout the 1950 and '60s. Of note are Jefferson Machamer, Kremos, MAD vet Dave Berg and even Basil Wolverton.
It even includes art that may even be subpar against the giants; for example, Bill Wenzel, whose approach is too sketchy, too goofy against the near-lifelike work of Ward, who took great pains to make sure every curve of his women would induce great pains in HUMORAMA readers. Wenzel's hardly the only one whose stuff isn't as good, but his signature was clear to read, unlike many chicken-scratchers.
The gags here are reprinted in three sections of duotone — blue, yellow, red — but pop as if they were four-color. Hardly a page goes by that isn't sexy in one way or another. Exception: The work of someone credited as "Gregory," who drew his women as if they were dead-eyed mannequins.
As with Chun and Covey's previous collaborations, the captions to the cartoons rarely matter — sometimes, they don't even match what's depicted. All that matters is the art, full of lovely, curvy, super-sexy women whose bra sizes run deep into the alphabet. It may not come in a brown paper wrapper, but yeah, this book's hot. It spills over with an abundance of retro tease to please. —Rod Lott