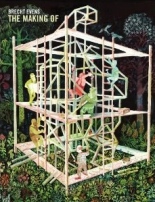 Released by Drawn and Quarterly, Brecht Evens' THE MAKING OF looks like no graphic novel I've read before. He draws no borders between panels so that all action exists in an open space, which perfectly fits the medium he uses to illustrate his story.
All 160 pages contain luscious watercolor art, with simplistic yet expressive characters (whose un-ballooned dialogue is color-matched to each character's primary palette) and large, surreal tableaus. It's an artistic achievement that is also a fairly gripping read.
The unlikely protagonist is Peterson, a moderately successful Flemish artist and instructor who is invited by the small town of Beerpoele to be the artist-in-residence at its biennial celebration. The "city mouse visiting the country" trope is well-worn, but Evens has assembled a truly eccentric cast of small-town characters whose lack of sophistication is never viewed condescendingly, except by Peterson, who, essentially, is kind of a dick.
Peterson's huge ego — fanned by his good-natured oaf of a host, Kristof — inspires him to lead the festival volunteers in the creation of a giant garden gnome, which he describes as "iconic, but also ironic," when asked sincerely if the idea is "a bit kitsch?" The process — or "making of" the massive sculpture — reveals Peterson's shallow nature and often cold disregard for the small town "artists," but he's not a one-dimensional character, and the unexpected climax reveals greater depth in his character than previously displayed.
Evens' brushwork and dynamic color palette create an experience possible in no other medium (though it'd be a kick to see how it would look animated). THE MAKING OF could easily be translated into a quirky, heartfelt Best Foreign Language Film entry from Denmark – luckily, it exists as a graphic novel, and it's one of the best released in 2012. —Brian Winkeler