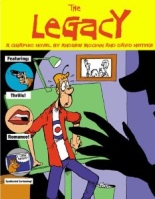 Several comic strips live on well after their creators have retired or passed away, thanks to being passed on to the kids. Examples include BEETLE BAILEY, HI AND LOIS and HÄGAR THE HORRIBLE.
But what if the children didn't want to inherit the job? That's the idea examined behind the subversive graphic novel THE LEGACY, by Andrew McGinn and David Neitzke. The strip in question is SIMPLE PLEASURES, which plays like an amalgamation of FAMILY CIRCUS and DENNIS THE MENACE, with a precocious kid who looks a little like the tot of CALVIN AND HOBBES.
More of Peter Bagge kind of guy, Chas Brown has always looked upon his dad's work as goofy and pandering to lowest-common-denominator laughs. Those "funny pages" just aren't funny. But when his father is on his deathbed, Chas reluctantly, impulsively agrees to take over the popular strip.
He never said, however, that he'd promise to do a good job of it.
In fact, Chas wants to get the strip canceled, so he turns in work to try to do just that. For instance, Mom (now with huge boobs with obscenely jutting nipples) asks Dougie, the strip's wee star, "And where do you think you're going, mister?" His answer: "I met a man on the computer! He wants me to come to the playground."
And so on. It is in these savage parodies of the milquetoast world of syndicated comics that gives THE LEGACY its pointed teeth. Although the ending seems to come out of nowhere and is a touch on the melodramatic side, this is a graphic novel that boasts a handful of big laughs.
I don't know if its target will ever give it the chance, simply because the packaging of it — especially the atrocious back cover — screams "amateur." We know you're not supposed to judge a book by its cover, but you're asking for it when you use one of the six rudimentary fonts that came installed on your bargain PC. The creators' website utilizes better design than this.
Hopefully, THE LEGACY will find its audience, because it deserves to. It's a fairly original idea brought to fruition with a clever wit. It's also not for the easily offended …. which may be part of why I liked it as much as I did. —Rod Lott