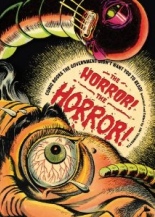 Thanks, Grandma! Thanks, Grandpa! For killing the horror comic, you paranoid, holier-than-thou fun-haters! Much has been written about the demonization of TALES FROM THE CRYPT and its ilk — David Hadju's THE TEN-CENT PLAGUE, in particular, provides a fascinating history of the whole shebang — but other than the EC reprints, it hasn't been as easy to see what got the parents of the 1950s' collective panties all in a wad.
It just so happens that there are two big, beautiful books out that unearth the damned, and because they take different approaches to the subject, they're both must-owns: Fantagraphics' FOUR COLOR FEAR: FORGOTTEN HORROR COMICS OF THE 1950S, edited by Greg Sadowski, and Abrams Comicarts' THE HORROR! THE HORROR!: COMIC BOOKS THE GOVERNMENT DIDN'T WANT YOU TO READ!, edited by Jim Trombetta. Save your dimes now.
Neither book focuses on EC; while those titles are top-of-mind when we think of "1950s horror comics," they were but a fraction of publications printed. Here, the spotlight is shone on the ones few, if any remember — the ones all but lost, bearing monikers such as MENACE, TOMB OF TERROR, WEIRD THRILLERS, MISTER MYSTERY and countless other soundalikes. You may not know those names, but you likely do the talents behind them, including Basil Wolverton, Jack Davis, Alex Toth, Steve Ditko, Wally Wood, Jack Cole and Joe Kubert, to name a few.
With an introduction by R.L. Stine, THE HORROR! THE HORROR! breaks down the objections of the U.S. Senate subcommittee chapter by chapter, with examples provided for each, ranging from nuclear zombies and shrunken heads to good ol' werewolves and skeletons. Trombetta's opening essay for each enlightens and provides needed perspective for the cultural mind-set of the times.
Most of the examples he brings up are then seen — largely through excerpts, rather than full stories — but on rare occasion, the only image you get is that which resides in your head. It's entirely possible, I guess, that not everything was available for inclusion. In the end, it doesn't matter, as THE HORROR! THE HORROR! offers a wide-ranging wealth of thrills and chills that, while certainly gory for their time, appear on-the-whole harmless.
As a bonus, there's even a DVD tucked into the back cover of a half-hour TV special from 1955 decrying the evils of comics. Worth seeing simply for its curiosity value, it's as dull and misguided as any educational scare film of the era.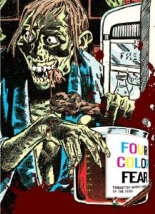 Almost as if Sadowski knew what Trombetta was cooking up, his FOUR COLOR FEAR eschews essays and just goes for full reprint after full reprint — more than three dozen in all. Here are morality tales of henpecked husbands with murder on the mind, pacts with the devil that always go south, cacti with a hug of death, twisted nursery rhymes, mad scientists and their Frankensteinian creations, a David Cronenberg-esque wall of flesh, and your usual smattering of swamp monsters, walking mummies, stumbling zombies and e'er-thirsty vampires.
Each story is weird and wonderful in its own way, even when the writers and artists aren't as skilled as others. Even better is a 32-page cover gallery in the middle, printed on glossy paper, each suitable for framing. I could stare at such covers all day.
These are excellent books, expertly designed and popping with flaws-and-all color. At more than 300 pages each, their heft is welcome. For serious comics scholars or just those seeking a nostalgic kick, both come highly recommended as strong year's-best contenders. —Rod Lott
Images from THE HORROR! THE HORROR!: