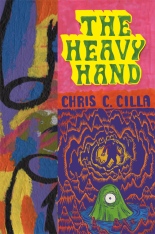 It's safe to say, without an ounce of hyperbole, that you have never read anything like THE HEAVY HAND by Chris C. Cilla. For off-center creativity and the kind of utter weirdness that has you first scratching your head but soon has you smiling ear-to-ear, there is nothing quite like it. Even those who have faithfully followed his earlier comics will find surprises.
The story (such as it is) is about Alvin Crabshack, who leaves his girlfriend's place one morning to begin his new job as a research assistant for Professor Berigan, whose lab is located deep within a cave way beyond the outskirts of town, and Alvin goes through a few adventures before finally arriving there.
Other researchers — rivals of Berigan's work — have already set up shop long before Alvin arrives. They are studying the reptile eggs found within the cave. No one seems to know what they are, or if whatever it is inside the eggs is alive. But something else lives inside the cave: strange, one-eyed, lima bean-shaped creatures floating in the underground stream who, without warning, pose a dangerous threat to the researchers.
By the time Alvin ventures deeper within the cave and catches up with Berigan, we discover that Alvin's job was a lie. Berigan never intended to hire him, and really wants nothing to do with him or anybody else. Then, just as one of the professor's experiments is about to explode, Berigan and Alvin load as much of the archaic equipment they can into their wheelbarrows and escape into the desert outside of the cave.
The two end up at the world's most boring party at a house in the desert. That is, until a stranger wearing a hood — possibly inspired by the lima bean creatures — blows the place up.
 
Weird? You don't know the half of it! For example, is Alvin's girlfriend the dark-haired Heather, or the duck-billed Lily in an alternate opening chapter? Is that reptilian goat that hatched from one of the eggs in the cave the next important step in evolution? Who is that transparent guy in the lab coat who pissed on the equipment and in the coffee in the prologue? And what is it with that guy in the black suit and mask, and his patchwork donkey?
Right from the start, we know that Cilla's skewed sensibilities are devoted to the traditions of his chosen medium. Several of Alvin's associates have cartoonish long noses or huge ears. A few of them are Goofy-like dogs (or whatever). And on the title page, Cilla insists that THE HEAVY HAND is a comic book, not some highfalutin' "graphic novel."
His black-and-white artwork within shows influences of Robert Crumb and various Sunday comic strips. The narrative style varies from straight-ahead panels to explosive pages of action and impressions. Even his ear for dialogue is impressive, especially during boring conversations — not as easy as it might sound.
Portland's Sparkplug Comic Books has established itself as the devoted publishing home for many inventive artists and storytellers, so the impressive printing and packaging they bring to Cilla's latest is no surprise. Is it worth the $14 asking price? Easily! For all its mind-messing fun it delivers, even with repeated readings, it's well worth the investment. Throw In The Towel (that's an in-joke). —Alan Cranis
Buy it at Sparkplug Comic Books.