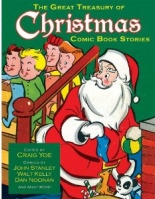 Whether you're 35 or 75 or somewhere thereabouts, you'll feel like you're 5 years old all over again with THE GREAT TREASURY OF CHRISTMAS COMIC BOOK STORIES. Comics historian Craig Yoe does it again — seriously, how many great books did the guy edit this year? — with this hardback collection of four-color fun primarily from the 1940s and 1950s.
Among the contributors are kids' comics mainstays John Stanley and Walt Kelly, each making several appearances, and Richard Scarry is represented with a retelling of "The Shoemakers and the Elves." All are delightful.
The book also includes some illustrated adaptations of prose Christmas classics, like Mike Sekowsky's "A Christmas Carol" and Dan Gormley's "The Night Before Christmas." The latter is followed immediately by Atomic Mouse's own version of the venerable poem. For those afraid the collection ignores the reason for the season, the TREASURY closes with a straightforward comics depiction of "The Christmas Story," baby Jesus and all.
With more than 21 tales, this is one book guaranteed to be brought out year after year. —Rod Lott