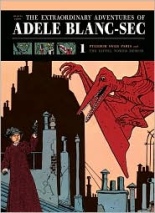 While Jacques Tardi's THE EXTRAORDINARY ADVENTURES OF ADÈLE BLANC-SEC doesn't quite live up to the adjective of its title, this oversized hardcover from Fantagraphics is quite fun, presenting the French heroine's first two outings: "Pterror over Paris" and "The Eiffel Tower Demon," both arcs linked as ongoing tale, serial-style.
Set in the Paris of 1911, the book gets off to a rousing start, as a pterodactyl egg in a museum hatches, and out pops a flying dinosaur to terrorize the populace. Multiple people investigate, include the comely young Adèle, who's operating undercover. Creatures continue into the second 50-page half with the demon Pazuzu — you know, that gargoyle-looking statue with the serpentine penis from THE EXORCIST.
A large dose of whimsy is injected into the proceedings, making the dashing also daft. Tardi has the feel of old-school French funnies down pat; if you didn't know any better — and if the pages were purposely yellowed at their edges — you might think they originated several generations ago, rather than one (they were first published in France in 1976).
As is, with its cerebral gags and secret tunnels, the work carries a slight burst steampunk in a knowing, winking vein of Alan Moore's LEAGUE OF EXTRAORDINARY GENTLEMEN. If the panels are sometimes overly wordy to the point of crowding out almost all of the illustrations, Tardi makes up for it with many more panels that rely on no words at all. The book makes me look forward to seeing Luc Besson's forthcoming film adaptation, but even more forward to VOLUME 2. —Rod Lott