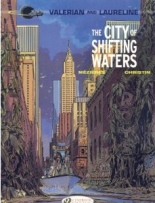 It sounds like a stretch saying that the design of Millennium Falcon came from this series of French comic books. But when you consider the amount of other memorable images predating George Lucas' saga — like the spatio-temporal agent Valerian being trapped hands upward in a solid block of what resembles, uh, carbonate — back in 1971, you being to wonder.
And then compare the famous outfit Carrie Fisher wears in RETURN OF THE JEDI with the getup spatio-temporal agent Laureline wore back in 1972, and perhaps it doesn't seem like such a stretch. And I'm really just scratching the surface. All this might just make you reconsider some of your favorite science-fiction imagery.
Having said that, THE CITY OF SHIFTING WATERS by Jean-Claude Mézières and Pierre Christin is not the greatest science-fiction comic book ever. But it is the beginning of what is one of the most influential, entertaining and long-lasting sci-fi comic books.
Ever.
The cartoonish illustration style of Mézières, in the European tradition, has been a problem for those attempting to break into the superhero-saturated U.S. market. But given the recent interest and popularity in the more fluid and expressive illustration styles of the likes of Darwyn Cooke or Jordi Bernet, it might finally be the right time for appreciating the mastery of the nonrealistic line. This is comics we're talking about, folks.
Now. THE CITY OF SHIFTING WATERS is the first full-length adventure of Valerian and Laureline, agents of Galaxity, roaming the endless infinities of the universe. Published originally in the late '60s, it would be followed by another 20 in the next 40 years. Cinebook, in its infinite wisdom, has started the ball rolling.
The story is this. Two spatio-temporal agents arrive from the 28th century to capture a rogue technocrat bent on rewriting history from back in 1986, the year when the ice caps melted.
Wait. Science fiction. Space-time high jinks. Written in 1969. Move on.
What follows includes a volcano erupting under yellowstone as our heroes float above it in protective prison bubbles. There are two mad professors — one who looks like Jerry Lewis in THE NUTTY PROFESSOR, and the other running an army of deadly robots excavating the underwater secrets of New York City.
Wait, underwater New York? Yes. These details are not in order.
A tsunami leveling New York City as our heroes race through the city streets in a hovercraft driven by the underground kingpin Sun Rae, who is bent on looting what's left of Manhattan. All that and much more on 48 large, tightly packed pages.
Writer Christin, whose later collaborations with Enki Bilal and Jacques Tardi are equally noteworthy, is still learning his craft here. There are a couple of long expository sequences, the characters whose Hawksian banter would soon move to a much higher level of sophistication are now there more to just set off the scenery, and it's all a bit messy.
Yet some of the concepts are already potent, like a scene where we have flood victims cursing our heroes for not helping them while they stand on the roofs of their devastated homes. He would in future books sharply comment on issues like colonialism or imperialism, but always in a manner that distinguishes an artist from a pompous fool — it enhances the story, gives it weight, but never preaches or takes over.
Mézières would perfect his craft from what is engagingly energetic here to something far more intricate while never losing sight of his exuberant verve.
In the end, any minor issues I have with this book are at most inconveniences. THE CITY OF SHIFTING WATERS is overboiling with iconic images — many of them original, some of which are riffs on older ideas — all crammed into a superb adventure that is still only a modest beginning to one of the finest science-fiction comic books ever created.
Give it a shot and maybe the floodgates will finally open. I wouldn't mind standing on my roof, surrounded by the likes of Tardi, Sokal, Comes, Munoz, Sampayo, Franquin, Christin and Mézières. —JT Lindroos