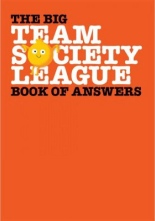 Some of the world's cutest poop, fart and vomit jokes come in comics form, in THE BIG TEAM SOCIETY LEAGUE BOOK OF ANSWERS. Your question may be, "Why?" My answer: "Because they can."
Deceptively simple, the collection of almost entirely wordless strips spring from the demented minds but kind hearts of four Toronto dudes: Aaron Costain, John Martz, Steve Wolfhard and Zach Worton. It's so wonderfully sick and profane that there's no way their moms cannot tell their fellow bridge ladies about this book and not be banned for life from the club, so for that reason alone, you should order it.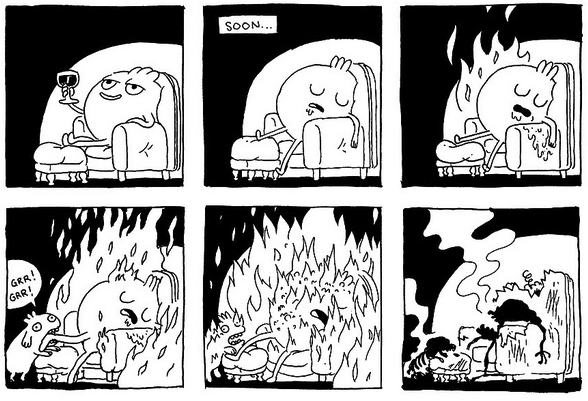 BIG TEAM SOCIETY LEAGUE stars a bunch of, well, shapes with limbs and eyes, including a square (Miroslav), a circle with boobs (Georgie), a triangle (Akira), a wiener (Helmut). The main "star" is the circle fella named Georges. I believe that over the course of the paperback, all experience numerous violent accidents involving their various orifices, all for your amusement.
For example, the circular fella named Georges blows bubbles. The bubbles turn into ghosts. These ghosts scare Georges away. The biggest bubble ghost happily sits on the bubble bottle so it goes up his bum.
Another? Okay.
Georges has an oozing pustule on his face. Georges goes to the doctor for help. Baffled, the doctor looks at the oozing pustule. The doctor sticks his finger in it and then tastes the pus. The doctor instantly breaks out with many such oozing pustules.
Repeat for 48 pages. Mind you, this is not a bad thing. I'd show my second-grade son, who would be certain to laugh and laugh, but I really love my wife, and I really love being married to her.
God bless you, Koyama Press; God bless us, everyone. —Rod Lott