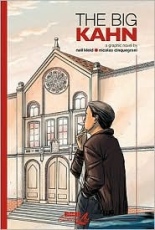 A funeral for a temple's rabbi where the truth is revealed is how the sequential drama THE BIG KAHN starts. Authors Neil Kleid and Nicolas Cinquegrani tell the story of Rabbi David Kahn, who had a big secret his whole life that only one person besides him ever knew: He was never Jewish.
This secret is exposed within the first few pages of this graphic novel, when Rabbi David's real brother, Roy, turns up to pay his last respects. He breaks the news to not only his family, but most of the congregation. This throws them into quite a tailspin, since now the family is looked upon as some sort of pariahs, even though they have always been considered above reproach.
Kleid's story shows each family member deals with the shock and reflects on the man they all thought was something different. Roy goes into detail of how David fell all into it, to the point that he cut all ties to his grifter brother. We watch as Avi, David's eldest son and also a rabbi, has a crisis of faith and is told straight out by the congregation he will not be taking over. Then there is Eli, who was left by his father all the tricks of a a young grifter's trade. Then there is the family's daughter, who reconnects to Judaism because of these events, while David's wife is dealt the most serious blow as she is looked down upon by others.
This is a story that is told so well in this format, with Cinquegrani's art being in the vein of indie comic artists, with realistic takes on the characters. His illustrations seem like a cross between Adrian Tomine and David Lapham. THE BIG KAHN is a complete change of pace from the graphic novels that populate most shelves, and should be looked upon as a fresh voice in the way a story like this could be told. —Bruce Grossman