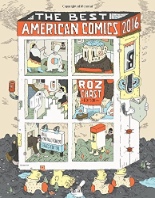 For me, fall has not truly arrived until the annual edition of THE BEST AMERICAN COMICS arrives at my door. For everyone else, it takes pumpkin spice.
Perhaps I can convert more of you to my side? The 11th volume, THE BEST AMERICAN COMICS 2016, marks the 10th anniversary of Houghton Mifflin Harcourt's series. While I doubt series editor Bill Kartalopoulos and guest editor Roz Chast had that in mind in selecting this year's contents, as if that were the sole impetus for making this collection Something Special; as Kartalopoulos has demonstrated since taking over the reins with the 2014 book, setting the high bar is merely a going-in given.
And yet, for whatever reason, this 2016 edition is among the now-tween series' absolute finest.
A cursory thumb-through reveals a mix of the familiar and the unknown. Longtime followers will recognize in a second's fraction the inviting symmetry of Adrian Tomine's tiny panels, the ink-saturated denizens who populate Gilbert Hernandez's nostalgic world of suburban wonder, the unmistakable detail-driven work of Chris Ware in his "usual experiments on reader tolerance" — his words, kids! Other names of note are Lynda Barry, Joe Sacco, Ben Katchor, Julia Wertz and Drew Friedman. Their contributions are always welcome — and I suspect anything they do will continue to merit year-after-year inclusion — but the strongest jolts of joy come with the leveled playing field for lesser-known artists and the coronation of new(-to-you) talents. That includes whoever is responsible for the "rage comic" of a bowel movement adorning Kartalopoulos' foreword.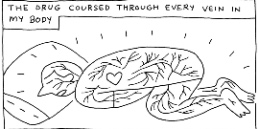 Let's hit some highlights. There's KING-CAT COMICS' ever-reliable John Porcellino with an excerpt from THE HOSPITAL SUITE, an autobiographical triptych of surgeries and struggles. His clean-line, no-fuss style is easy to get lost within; the simplicity of his images is so inviting that I found myself hoping he would make it out of abdominal surgery alive. Let that logic sink in.
Porcellino's visual polar opposite can be found in Casanova Frankenstein's sex-, drug- and dysfunction-fueled "The Corpse, the Ghost and the Hollow-Weenie," bleak as fuck but nonetheless car-wreck compelling. If its unrelenting misery gets you down (and it will), turn to Kate Beaton's pee-your-pants-funny "Broadside Ballads," strips that key off historical woodcuts in the same vein as MAD magazine scribe Frank Jacobs once did by captioning masterworks in MAD GOES TO PIECES.
Also hysterical is Alex Schubert's wry, dry "Fashion Cat," a hipster feline — or is it feline hipster? — so self-absorbed, he puts the "me" in "meow!" (As for Schubert, his comic timing is impeccable — all the more admirable since that is not an easy thing to do in this unmoving medium.)
Best of all, somewhere in the melancholic middle, stands Joe Ollmann's "Shut Your Pie Hole, Johnny Pinetop," depicting a day in the so-called life of a middle-aged ventriloquist with a harelip, a speech impediment and too few gigs. Darkly humorous, the tale comes with a heartbreaking twist. One of the very best narratives I've read all year, drawn or otherwise, it's a story I did not want to see end — much like the anthology containing it.
Judging by Kartalopoulos and Chast's 400-page assemblage of illustrated work from print and online, mainstream and underground, the BEST AMERICAN COMICS brand is poised to enjoy a killer second decade. —Rod Lott