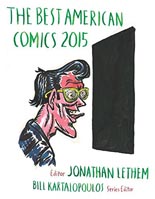 Even with nine years behind the series run, THE BEST AMERICAN COMICS 2015 is brimming with surprises and discoveries — not the least of which comes from guest editor Jonathan Lethem. A giant of the literary field (i.e. 2003's comics-inspired THE FORTRESS OF SOLITUDE), the novelist takes the road less traveled by drawing his introductions to each themed section. They're whimsical and charming and the opposite of what I'd expect from a mighty man o' letters — yes, even one who has scripted Marvel Comics.
Available in hardcover — no paperback! — this 2015 edition marks Bill Kartalopoulos' second go-round as series editor, and he's the guy responsible for the shift to presenting like-minded contributions together, rather than the previous annual collections' seemingly random shuffle.
I'm sure original editors Anne Elizabeth Moore, Jessica Abel and Matt Madden didn't actually assemble their combined eight volumes willy nilly, but I much prefer this more overt organization. For one thing, it forces the big boys (and girls) to hang with the newbies, thereby lending credibility to the latter — not that they need it, since the (mostly) stellar work speaks for itself. Still, the effect is like sitting down to eat after filling your plate at the buffet, and going from comfort food, which you know you're going to like, to something you're not even sure what it is, but hell, it won't hurt to try. And more often than not, it doesn't.
For me, the highlights among so many highlights from both aforementioned "cliques" include:
• the always delightful Roz Chast documenting a difficult time (her mother's ill health) with extraordinary humor;
• "Sadistic Comics," another of R. Sikoryak's brilliant mash-ups told via faux covers, this set plopping Wonder Woman into the Marquis de Sade's JUSTINE;
• the Colorforms-style art of Eleanor Davis' stories from HOW TO BE HAPPY;
• the acid-trip narrative of Jesse Jacobs' green-tinted mindfuck, aka SAFARI HONEYMOON;
• Matthew Thurber's meta touches to a hysterical "horticulture youth" tale involving Adobe Photoshop and cat feces;
• and, perhaps my favorite of the book, Gina Wynbrandt's painful and painfully hilarious "Someone Please Have Sex with Me."
Elsewhere in the book's 400 pages you'll find selections from — to name a mere four — Ed Piskor's popular HIP-HOP FAMILY TREE; elder statesman Jules Feiffer, whose work has never been for me; Peter Bagge, giving the bio treatment to Planned Parenthood founder Margaret Sanger, of all people; and the headache-inducing visuals of the appropriately named Henriette Valium. Once you pop, you can't stop. —Rod Lott