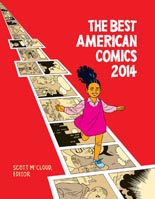 New blood lifts THE BEST AMERICAN COMICS 2014 above the previous year's edition as the annual anthology welcomes Bill Kartalopoulos as series editor.
Now in its ninth volume, the reliable fall treat couldn't have found a better guest editor to usher in the Kartalopoulos years than Scott McCloud; both men shake things up in a good way. For one, the selections are gathered in loose themes (examples: "Strange Adventures" and "Oh, Crap — Webcomics!"), which helps the contents flow better than ever.
Standing out among an above-average slate are heartfelt, slice-of-life tales from Chris Ware, Adrian Tomine and Tom Hart, whose piece will draw tears from any loving parent. McCloud devotes one section to experimental comics that challenge readability, while devoting another to YA comics that welcomes everyone.
I could have done without Robert Crumb and Aline Kominsky-Crumb's collaboration on senior-citizen sex, yet greater discoveries always await a few pages ahead. —Rod Lott