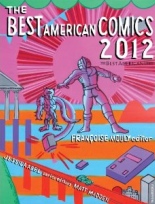 THE BEST AMERICAN COMICS 2012 is both the same as and different from the six previous annual editions: same in that is contents are rich enough to be consumed in one sitting; different in that this year's guest editor has made some notable changes to the otherwise unchanged format, and all for the positive.
That guest editor is none other than Françoise Mouly, who certainly knows about editing comics. From the days of RAW magazine to the LITTLE LIT volumes, she's been a driving force in making — and keeping — comics respectable and viewed as a valid form of literature. Her guiding hand here is so simple, yet helpful, one wonders why series editors Jessica Abel and Matt Madden didn't seek her out sooner.
Mouly gets the anthology off to a creative start by offering her own four-page piece, "Découpage," which is about the difficulty of selecting pieces for the book. For each panel, however, she has borrowed art from others — most whose styles are so distinct, an indie-comics regular can name them on sight: Roz Chast, Daniel Clowes, Jeffrey Brown, Lynda Barry, Seth and even her own husband, Art Spiegelman.
Her two approaches to doing things differently are this:
1. Each of nearly 30 contributors gets his or her introductory page, which serves as a bio of sorts. Although this undoubtedly eats up more space, it soundly beats the alternative, which had me constantly flipping to the appendix to learn more about whose work I just read.
2. The back contains half a dozen "Comics for Kids" (including MAD man Sergio Aragonés), which is a terrific way to get children involved in the series. God knows much of the pieces aren't for them, and if we want the art form to continue on for generations, it's best to get them hooked as early as possible.
But back to the main contents, the highlights include:
• an excerpt of Charles Burns' X'ED OUT, which is gorgeous to absorb, despite its maddening incomplete status (in Burns' original book, I mean; not here);
• scenes from Adrian Tomine's SCENES FROM AN IMPENDING MARRIAGE, which began as a wedding favor for guests and makes me want to read the entire finished product;
• a handful of Michael Kupperman's hilariously absurdist strips;
• the 1970s Hollywood decadence of Sammy Harkham's "Blood of a Virgin," a story told in a manner reminiscent of the Hernandez brothers;
• Chester Brown's "Angelina," in which he bravely accounts his visits to prostitutes; and
• "Money," a Chris Ware new classic created especially for THE NEW YORKER. Yes, like his other work, it hits home and hits hard.
From Gary Panter to Jim Woodring, 352 pages of goodness awaits! Each time a new edition arrives, it's like an early Christmas present. —Rod Lott