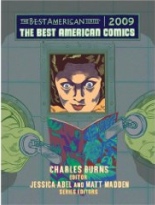 Charles Burns serves as guest editor for THE BEST AMERICAN COMICS 2009, the fourth go-round for the annual anthology. And you know what the only negative to this series is? By the time these roll around, with submissions having been culled as far back as two years prior, you may have already read a good chunk of the contents.
Of course, that just means that Burns and series editors Jessica Abel and Matt Madden just have exquisitely good taste. After all, just look at some of the names whose work has been deemed worthy enough to make the final cut: Peter Bagge, Robert Crumb, Art Spiegelman, Tony Millionaire, Kaz, Michael Kupperman, Gilbert Hernandez …
Oh, and Daniel Clowes! He provides the first standout story with "Justin M. Damiano," which is a savage parody of self-important film bloggers. Dan Zettwoch takes a fictional look back at comics created for decades' worth of church bulletins in "Spirit Duplicator," while Matt Broersma catches a man in despair on the day he loses his job and his wife, in "Insomnia." Too bad it's only an excerpt, because it gets you hooked.
So does Adrian Tomine's "Shortcomings," but at least it's more fleshed out in terms of page count. It studies a young man with a heart in need of mending, as he whines and hangs out with two lesbians. Also dealing with pain — albeit the adolescent kind — is Gabrielle Bell's "When I Was Eleven," in which a girl runs away from home to the out-of-season site of summer camp. Although I'm neither a girl nor a camp alum, I could relate to her feelings.
Dash Shaw is somewhat of a find for me, here with the abstract sci-fi story "The Galactic Funnels," with a purposely skewed script. Sammy Harkham also impresses with his WTF approach in "Black Death," which follows the apocalyptic travels of a golem, a guy with arrows protruding from his body, and a naked man.
In "Jordan W. Lint," Chris Ware examines the titular man's life via only a handful of select days. I find his work hypnotic, not only in terms of story, but his unique manner of structure, right down to panels so minute, you need a magnifying glass to read them.
One of my favorite pieces is "Freaks," in which Laura Park tells a tale of two sisters bullied at school and pretty much left to their own devices, so much so that the older one has to play mother. Jillian and Mariko Tamaki also offer an outcast story with the sobering "Skim," about two Wiccans.
I can't not mention the work of Tim Hensley, who's represented by four connected stories spread out among the pages. His art is squeaky-clean, like something from the pen of Mort Walker or Dik Browne, but this serves to belie some of his subject matter. Just wait'll see you see how "The Argument" ends. Surprises are fun.
Also worth singling out are Koren Shadmi and Kevin Huizenga, both with pieces I'd read before. Not everything picked for inclusion here is aces, however — I've read far stronger from Gary Panter and Ben Katchor — but this 2009 edition continues the series' tradition of being great, more often than not. They always prove a highlight of the fall season. —Rod Lott
OTHER BOOKGASM REVIEWS OF THIS SERIES:
• THE BEST AMERICAN COMICS 2006 edited by Harvey Pekar
• THE BEST AMERICAN COMICS 2007 edited by Chris Ware
• THE BEST AMERICAN COMICS 2008 edited by Lynda Barry
OTHER BOOKGASM REVIEWS OF THIS AUTHOR:
• BLACK HOLE by Charles Burns
• SKIN DEEP by Charles Burns