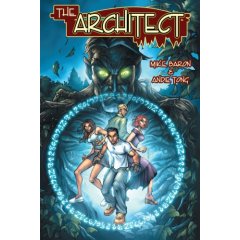 Ever wonder what THE FOUNTAINHEAD would have been like if it were written by Aleister Crowley? Of course you have. We all have! But where would one even start to find a book like that?
Let's all take a collective breath and pick up a copy of THE ARCHITECT, a highly entertaining one-shot, prestige-format graphic novel written by comics legend Mike Baron (NEXUS) with art by Andie Tong.
Roark Dexter Smith is a jack of all trades: lauded designer, talented violinist and a real woman-sexer. He's also deeply involved with those wacky black arts. When he dies, his last masterpiece – a sprawling beauty that rivals Frank Lloyd Wright's best – is left to a previously unknown heir, the formally orphaned Gil.
Of course, when he and his friends decide to renovate the place, things start going all crazy, complete with killer berries, killer toilets and killer fungi regurgitation. It's all extremely insane, in an extremely good way.
Frantically fast-paced with a grandiose killer twist ending, Baron is in top form, delivering a fresher-than-fresh take on the typical haunted-house scenario with the super-detailed artwork of Tong complimenting every line. It's clever, it's fun and it's beautiful to look at. It's got the makings of a horror classic and really deserves to be read by the widest audience possible, mushroom monsters be damned. –Louis Fowler