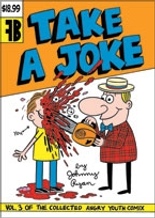 And now for a random quote from Johnny Ryan's TAKE A JOKE: "Mmm! Ahh! Hot, nourishing pee!"
Grossed out? Understood, but know that that barely scratches the surface of offensiveness in Fantagraphics' third volume of Ryan's ANGRY YOUTH COMIX and single-page works from the pages of VICE magazine. Either I just convinced you to move on, or totally made a sale.
If the shoe were on the other foot, I'd be clicking over to buy a copy.
No matter the recurring character — funniest-ever comedian Boobs Porter or zit-faced Loady McGee — the adventures start at an outrageousness level that's over-the-top and go north of there, until they climb higher, then scale a wall, then take an elevator, then an escalator, and finally jump real high. They never, ever come down.
This is good news for those who can delight in the purposeful satire of the profane, whether it's a gag — emphasis on "gag" — about how to get rid of breast cancer, a woman's boobs secreting fecal matter, a suit made from celebrity asses, a rape machine, death by shit puddle, and so on. And those are just the things I can mention.
In any other artist's hands, I'd probably hate the damn thing. But Ryan's cartoon style is rendered in such a manner that makes the filth seem innocent, as if the deviant behavior within his panels are perfectly acceptable. In other words, unlike many of the underground comix of the 1960s and '70s, I can't see anyone "getting off" to this. It's as if it's poking fun of those works' puerile nature, by topping it.
While I admit I found some it very, very funny, I'll never be able to look at a bottle of A-1 sauce the same way again. Or Robert Crumb, Yogi Bear and THE NEW YORKER, all of whom take quite the licking. Licking just what, I leave to you to discover on your own. —Rod Lott