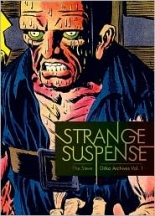 For a change of pace, it's nice to delve into some work from the great Steve Ditko and find nary a spider-man nor a strange doctor among them. Fantagraphics provides the ideal venue for doing so in STRANGE SUSPENSE: THE STEVE DITKO ARCHIVES VOL. 1, and it's assembled by Blake Bell, who wrote the terrific Ditko bio STRANGER AND STRANGER in 2008. Naturally, this complements that.
The nearly 35 stories within come culled from the artist's pre-Marvel (and pre-Comics Code Authority) era of 1953-1955, when he labored for such second- and third-tier publishers as Timor, Prize, Gillmor, Ajax/Farrell and Charlton, which is the one you've likely heard of and that which comprises the bulk of the book.
The title promises suspense, and there's plenty of that, but you also get a representative sample of Ditko's work in the romance, crime, Western and satire genres for good measure, from rags bearing unapologetically bold monikers like DARING LOVE and BLAZING WESTERN. But make no mistake: Horror and fantasy reign supreme here, courtesy of now-forgotten series such as THIS MAGAZINE IS HAUNTED, BLACK MAGIC and SPACE ADVENTURES, among others.
In these scare tales, a man stumbles into a scientific discovery that turns his limbs stretchy; another enters a well-stocked horror library where the price of the tomes is a mere human soul; a prospector attempts to outsmart goblins for hidden loot; a medical student breeds a super-species of carnivorous worm; a miserable husband and wife build traps in order to off one another; an entire planet learns why playing poker with an alien is a bad idea; and department-store mannequins come to life after-hours to the detriment of a burglar.
Pages from THE THING! prove among the most fun, offering EC-style versions of children's fairy tales like "Cinderella" and "Rumpelstiltskin" that return them to their garish, often gory roots. Sometimes, a single piece will jump among genres like a frog does lilypads; "Doom in the Air" turns from Western to war story to horror, all in the span of eight pages.
Scripts — whoever wrote them — are not the material's strong suit. Many run hackneyed or are so overwritten that the word balloons threaten to crowd out the artwork. But it's Ditko's name that is on the book, and Ditko's art is the only reason this exists. After all, when you see a horror story titled "Triple-Header!," you pretty much can guess how it's going to end; seeing how the artist will depict that end is what keeps you reading.
In his introduction, Bell writes that Ditko "created a unique vernacular of how people moved on the page and how his characters showed emotions … using the characters' eyes to express panic, anxiety, loneliness, and remorse." The faces really say it all, from the perspiring criminal on the cover to the villains' visages on the inside, often cast in pallid greens or yellows to emphasize their sinister nature. (And look at the bald, furrowed-browed misfit of "Comeback!" and tell me it wasn't an a-ha moment for Charles Burns.)
With the Fantagraphics logo on the sturdy spine, readers can expect — and receive — a top-quality package with crisp pages and handsome design. It's certainly attractive for some stories Ditko dismissed as "junk," but we all know there's treasure buried in trash. —Rod Lott
OTHER BOOKGASM REVIEWS OF THIS AUTHOR:
• STRANGER AND STRANGER: THE WORLD OF STEVE DITKO by Blake Bell