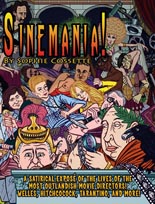 A few images from Canadian cartoonist Sophie Cossette's delightfully naughty SINEMANIA! threaten to stick with me for a while:
• Quentin Tarantino's monstrous Franken-forehead;
• Bela Lugosi tweaking, jutted tongue and all;
• Erich von Stroheim as a spider, writing "I'm fucked,"
• and Rainer Werner Fassbinder's furry testicles.
Yes, furry.
See, in her comic-book collection of biographical sketches of Hollywood directors, she takes on everyone and spares no one. Unless you're one of her subjects, that's a good thing.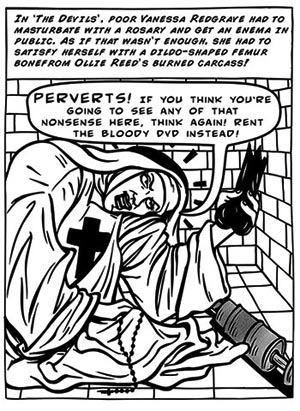 A talented satirist but a more talented illustrator, Cossette spends a few pages to send up each target, including such auteurs as Roman Polanski, Sam Peckinpah, Woody Allen, Pier Paolo Pasolini and Werner Herzog. Fritz Lang's sexual peccadilloes result in him being portrayed as a vampire ("And I can only reach orgasm with the taste of blood in my mouth!"), while the career of Tim Burton is encapsulated into a board game ("You feel the alienation of suburbia so go hang yourself!").
Only in her imaginary tête-à-tit with Russ Meyer does Cossette go too far, calling the dead man an "Alzheimer's retard." It's a low blow made lower because most of her lines read far wittier. I laughed a great deal through SINEMANIA! and, when I didn't, thoroughly enjoyed the experience with a smile. The lone exception is "Love at First Bark," an extended piece that pits Marlene Dietrich against Madonna, to no earned payoff.
But the rest? I'm crying out for sequels, plural. In structure, ECW Press' trade paperback reminded me of DC Comics' late, lamented THE BIG BOOK OF series the company released through its Paradox Press imprint, but in execution, it should be viewed as a hard-R issue of MAD magazine or a cartoon version of Kenneth Anger's underground classic HOLLYWOOD BABYLON. Either way, the cynical film buff in you wins. —Rod Lott