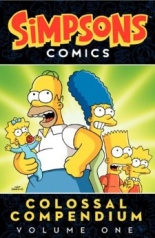 This may make me sound like a pretentious jerk, but every now and then a piece of art comes across my desk that makes me scratch my head and wonder why it exists. It's usually commercial art, often in support of an existing copyright or property. Sometimes, these pieces surprise me.
For instance, the novelizations of the original ROBOTECH series and the DICK TRACY movie are amazing. But these are exceptions. A lot of time, they're a 10th Batman or Wolverine title or something that almost reads like (hopefully well-executed) fanfic. 

Which brings us to the SIMPSONS COMICS COLOSSAL COMPENDIUM: VOLUME ONE. With an intro like that, I should probably immediately say that there isn't anything wrong with this collection. There are a handful of genuinely funny and well-executed pieces of humor in its 176 pages. But right next to them is a comic-book adaptation of a totally nonexistent Radioactive Man movie, which also isn't terrible or anything. It's just sorta a curiosity, like Beatles Pez dispensers or lamps made from a stuffed monkey corpse. 

And that's where I come down on this whole paperback. A few of the jokes are truly inspired, not just for a SIMPSONS audience, but for any audience. There are even a few comics-related genre gags that I personally appreciated (and one with a decent twist ending if you're a SIMPSONS fan). The art is more or less exactly what you'd expect from a SIMPSONS book (in a good way). The printing is clean; the coloring is bright; and the binding is strong. There's even a heavier-weight cutout of The Android's Dungeon & Baseball Card Shop included in the back that'll be fun to put on your desk at work for a few weeks. 

But the overall experience is like eating rice cakes with a little peanut butter on them: Sure, there's the peanut butter, but mostly, there's just rice cake. This is a book that exists to make sure SIMPSONS fans have something else to spend their money on. If you aren't a die-hard SIMPSONS fan, this isn't going to rock either your world or your socks. 

However, if you are a huge SIMPSONS fan, there's a lot to love. Like I said, most of the time the art is so polished, it looks like stills from the TV show. There are all manner of in-gags and expansions and interesting ideas that will really wow the SIMPSONS lover. This book was created just for you by people who also seem to really love the property. Buy it and enjoy it as the love letter to you that it is. —Joshua Unruh