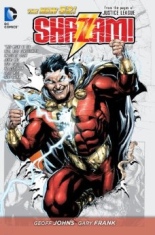 Just like most of DC's "New 52" reboot experiment, SHAZAM! VOL. 1 isn't a bad stack of comics … as long as you're willing to completely forget everything that came before it.
A friend pointed out that's exactly what DC would like us to do what with the fact that it's a linewide reboot and all — a fair point, but doesn't entirely hold up. The reboot is great news for Superman and Wonder Woman, who were hot messes beforehand. It's terrible news for Batman since they undid the smartest move since introducing Robin. And it's pretty good with a side of depressing for Captain Marvel. Or I guess his name is Shazam now.
Let me explain.
SHAZAM! is the story of Billy Batson, a young orphan who is kind of a belligerent asshat, yet nevertheless is empowered to be a Champion of Good by the last of a council of mighty wizards. Billy is a teenager who transforms into a supremely powerful adult superhero named Shazam, who comes complete with a hood, a cape, a lot of poorly defined powers and, oh, yeah, a thousands-of-years-old-and-just-as-powerful archenemy named Black Adam.
Billy learns courage in the face of evil, the power of doing good and the value of family. He also tries to buy beer.
There is some honestly good stuff in this book and writer Geoff Johns (BLACKEST NIGHT) hands in some decent storytelling. There are a few strong character beats, and if they feel a little bit rushed, well, that's just the price you pay for more than six decades of supporting cast showing up in 12 issues. The bit where a newly empowered and aged Billy and his foster brother, Freddy, get some juvenile revenge and then try to buy beer is pretty humorous.
The Marvel Family (although they are never called that) are also introduced. Their ranks are both swelled beyond previous incarnations, as well as made more ethnically diverse in a way that makes sense with the story and doesn't feel like a sheepish acknowledgement of just how many superheroes are big white guys with blue eyes and black hair.
But the absolute best part of Johns's script is how he kept the number of decapitations and dismemberments blessedly close to zero. That guarantee is never on the Geoff Johns label, so appreciate it.
The art by Gary Frank is some slam-bang superhero stuff. It's realistic enough that it feels grounded in the real world, but isn't afraid to make giant tigers and guys wearing shiny red costumes look as awesome as they deserve. Frank bounces from shoddy orphanages to mystical fortresses to Philadelphia streets to massive superhero smackdowns with apparent ease. He's a talent I'd like to see put on a superhero book that would unequivocally blow my mind in a way this and BATMAN: EARTH ONE (also written by Johns) haven't.
By any measure, this is an extremely pretty book. There are some missteps and lost opportunities, though. The fake-out twist on Black Adam's origin is clever, but falls flat when you realize that it would have been more interesting if it were the real deal rather than a mid-plot misdirection. "Evil" Dr. Sivana might just be misunderstood, but despite appearing on two pages out of every five and constantly stating his motivation out loud, I'm still a little fuzzy on the details.
There's a great scene where Black Adam hangs a crooked CEO out the window in a scene deeply reminiscent of Grant Morrison's introduction of a young Superman in ACTION COMICS … except nothing is ever done with the parallel, so I think it must have been accidental.
Despite some of the usual Johns story tics and a muddy action scene now and then from Frank, these two guys put out a pretty good superhero read. But the guy inside me who can't forget the inspired and joyful fairy tale concept that Captain Marvel started out with wonders what it would be like if DC committed to making even one comic full of magic, wonder and whimsy.
So for anyone coming to this book cold, I give it a solid B+, but that drops to a B- if you think about it too hard. For the guys who think Captain Marvel is the greatest fairy tale nobody is telling anymore, the grade depends on how much of that you can forget while reading SHAZAM! VOL. 1. Good luck. —Joshua Unruh