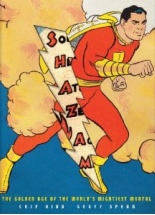 Only one word accurately describes Chip Kidd and Geoff Spear's SHAZAM!: THE GOLDEN AGE OF THE WORLD'S MIGHTIEST MORTAL, and that word is "Shazam!"
I kid. That word is "awesome."
This will come to the surprise of none of Kidd's fans, for America's reigning superstar of graphic design has turned out one excellent art book after another dedicated to his favorite superheroes, from JACK COLE AND PLASTIC MAN and BATMAN COLLECTED to BAT-MANGA and now this.
Often, that's been achieved with the help of photographer extraordinaire Spear, whose eye for crispness in the details is unparalleled. Here, the two combine their mighty forces once more to produce a history of Captain Marvel, told not through reprints of comics, but his legion of 1940s-era memorabilia.
It's hard to imagine today, given Cap's reputation as a second-string superhero, that he was once huge, as popular as the Man of Steel himself (whom he resembled a bit too much for DC's liking). But he was, and there an absolute flood of Captain Marvel merchandise in the marketplace to satisfy the demand of American children who wanted to be him — everything except, ironically, Kidd notes, Halloween costumes. But there was plenty of other stuff, whether logical or not, including race cars, paint kits, toss bags, buttons, paper airplanes, puzzles, coloring books, watches and paper dolls.
The book also includes lobby cards, ad mats and even south-of-the-border bootleg trading cards for the Republic serial ADVENTURES OF CAPTAIN MARVEL. Mary Marvel and the awkwardly monikered Captain Marvel Jr. don't get short shrift, either, nor does Spy Smasher, which was Fawcett Publications' Batman counterpart, more or less. Even Hoppy the Marvel Bunny gets his due.
Like many of my age, I first came to know Captain Marvel not through comics, but via CBS' live-action SHAZAM! series that played Saturday mornings in the mid-1970s. I would've loved to have seen the toys and whatnot that resulted out of that three-year run, assuming there were any (I remember a doll), but the book sticks to the Golden Age, and that's fine.
This one's a must for fans of Kidd and/or Captain Marvel. With a die-cut lightning bolt in the front cover, the hardcover book adheres to the Kidd/Spear presentation style. It's not the easiest to describe, but, like pornography, you know it when you see it. —Rod Lott