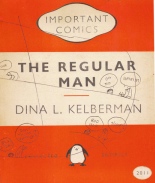 Scouring out the singles scene … in comics!
Dina L. Kelberman collects material from issues of her IMPORTANT COMICS in IMPORTANT COMICS: THE REGULAR MAN, one fine-looking paperback of often-abstract work. As I've stated before in a review of one issue, her comics are like anti-comics: Titles are tenuous at best; the stories aren't stories at all; concepts veer toward the abstract; the nondescript figures look like milk cartons, mailboxes or beans. This round-up of the now-defunct but ever-noble project comes with an overarching design concept that apes ye olde Penguin Classics. The execution is as clever as the thought. Well done, Dina!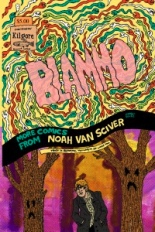 Now that I've had the pleasure of reading three of his works, I'm ready to nominate Noah Van Sciver as Our Country's Very Bestest Indie Cartoonist Who Has Yet to Hit the Big Time, but Totally Deserves To. This guy is full of talent, both in writing and illustrating, both in long form (the historical THE DEATH OF ELIJAH LOVEJOY, the Y2K-era relationship drama 1999) and short form (the anthology BLAMMO #7, alternately hilarious and heartbreaking). Buy whatever this guy does, America.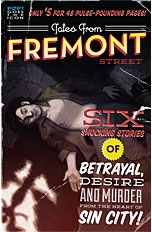 Vegas is a shitty place to live, reminds the one-shot TALES FROM FREMONT STREET. The collaborative project from Pop! Goes the Icon weaves together six separate tales of gambling addicts, alcoholics, whores, petty crooks, one-night-stands, robbers, pussycats and more into one crime story soaked in neon, piss and puke. And I totally mean that in a nice way. This was fun to read, even if the tone among the contributors switches wildly from piece to piece.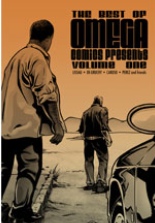 Speaking of Pop! Goes the Icon, the indie press also has hand-picked material from the first four issues of its flagship anthology series for a trade paperback, THE BEST OF OMEGA COMIC PRESENTS: VOLUME ONE. While I'd prefer to have the entirety collected, this 102-page sampling is the next best thing, reprinting brief to longish standalone stories that involve the diameter of pizza pies, seduction of a burglar, telekinetic homeowners, a counterterrorism unit, exhausted superheroes, hitchhikers, corpses and much more — something for all graphic-fiction tastes.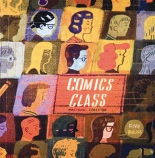 Matthew Forsythe gives a highly exaggerated account of the time he taught COMICS CLASS, in a fun, square-sized mini paperback from Koyama Press. You know it's highly exaggerated because one kid stands on his desk and reaches for a noose while saying, "I can't take it anymore." This is all part of its charm, and COMICS CLASS is nothing if not full of that. Forsythe's humor is wry without becoming raw, and his simple drawing style conveys genuine warmth.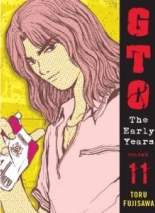 After recently publishing the spin-off GTO: 14 DAYS IN SHONAN, Vertical Inc. goes back to where it began (kind of) by publishing Toru Fujisawa's Japanese manga series GTO: THE EARLY YEARS in English. But since the reprints beginning with VOLUME 11, however, I'll admit to being totally, completely lost. I get that it's a comedy set it high school, that it's rife with over-the-top violence, that it teases with cheeky sexual humor. What I don't get is who's who and what's what. In short, I just don't "get" it, no matter how hard the art invites my eyes to do so.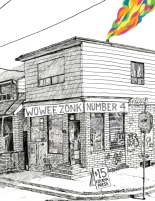 WOWEE ZONK #4 is a paperback anthology with apparently freeform contents, to the point so few actually are readable. That makes the $15 price tag a little "say whaaat?" unless you're someone who enjoys abstract art while you're tripping. I can practically pinpoint which pages were created on drugs: most of 'em. There are two highlights for me: Donald Dixon's non-sequitur encounter between Johnny Cash and Eddie Money at a bank (get it?), and Benjamin Hettinga's crudely drawn but very funny strips, the best of which illustrates why one never should light his farts inside an RV. You've been warned.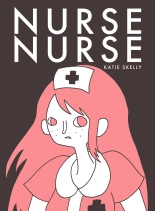 Because I love the look of NURSE NURSE so much — think Jeffrey Brown filtered through Hello Kitty — I wanted to love this paperback collection by Katie Skelly, rounding up all eight issues of her mini-comic about nurses in space in the year 3030. But I didn't, because I found the story thin: something to do with crazed Venusian butterflies. Still dig her drawings, though. This is from the Portland-based Sparkplug Comic Books, whose founder, Dylan Williams, died recently far too young. Consider this an overdue thanks, Dylan, for giving so many unknown cartoonists a chance at wider exposure. If they don't enjoy indie comics in Heaven, they sure will now. —Rod Lott