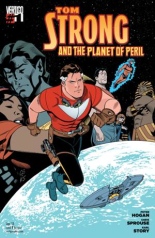 Scouring out the singles scene … in comics!
All four of these capsule reviews are for currently out single issues from Vertigo. Man, I love Vertigo if only because there's so much diversity in this pile. And I can't imagine another publisher for some of them — they're just so delightfully weird!
TOM STRONG AND THE PLANET OF PERIL #1 — The first of this six-issue miniseries is by TERRA OBSCURA alum Peter Hogan and and Karl Story, and Christ Sprouse (BATMAN: THE RETURN OF BRUCE WAYNE). I loved Alan Moore's Tom Strong back in the day and appreciated the first TERRA OBSCURA stories as a great experiment. This issue felt like old home week while leaving me both wanting more and to fill in the gaps between the last stuff I read and this. If you've ever liked the character of Tom Strong, get this. If you would like an evolving world that revolves around an aging pulp/science hero, check this out.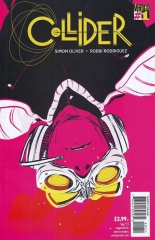 COLLIDER #1 — Note: Due to a copyright issue, COLLIDER has already been renamed FBP: FEDERAL BUREAU OF PHYSICS from issue 2 onward. Any subsequent reprints of #1 will bear the new title. Whatever the name, it's by Simon Oliver (THE EXTERMINATORS) and Robbi Rodriguez (HAZED). The laws of physics have become more like rules of thumb over the last few years and the disasters caused by this are handled by the FBP. Our main characters are a handful of the usual suspects: the young, self-destructive agent; the aging cowboy agent; the suit-and-tie, overeducated douchebag boss agent. They think they have a handle on their jobs, and then the last page happens. I'm intrigued by this first issue and I loved TV's FRINGE hard enough to want that itch scratched again. FBP looks like it might get that job done, and admirably.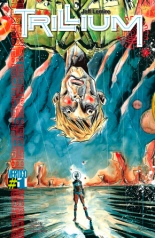 TRILLIUM #1 — I haven't read much from Jeff Lemire, but what little I have did not wow me. His GREEN ARROW is a fairly blatant grab at Marvel's HAWKEYE aesthetic, and just saying the title of JUSTICE LEAGUE DARK makes me feel dumber. But TRILLIUM is really fascinating. The first issue is split in half with an introduction to both viewpoint characters who are separated by 1,876 years and some undisclosed number of light years, but united in the search for a white flower with many purported healing properties. These are two damaged individuals looking for some kind of validation in their discoveries, although I'm not entirely sure what damaged or how they'll be validated. The character work is robust while still living many unanswered questions; the art is weird and evocative in a way I find just right for an oddball mystery across time and space. I'll keep an eye out for the second issue for sure.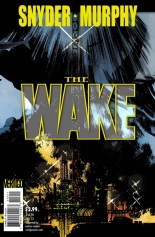 THE WAKE #3 — I haven't seen the first two issues of this 10-issue series by AMERICAN VAMPIRE's Scott Snyder and PUNK ROCK JESUS' Sean Murphy, so I have no idea what's going on. But it looks like a sorta horror-movie/thriller thing going on in an underwater installation, and there's a fish monster that is poisoning everybody with hallucinogenic venom that shoots from its eyes and then kills them by ripping them into pieces. There's also something going on with a main character who studies whales that leads to a big reveal. And also something to do with Mars nearly 4 billion years ago. But it's crazy and tense and beautiful to look at. So I have no idea what's going on … but I really want to. —Joshua Unruh