Scouring out the weekly singles scene … in comics!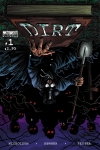 Horror novelist Scott Nicholson gets his hands dirty for, well, DIRT #1, his own comics anthology of scary stories, for which he writes and assumes the role as its Cryptkeeper-esque host. Working independent of publishers, he lets nothing hold him back, as becomes evident in the first story, "The Christening," because it's not every day (I hope) you see a drunk redneck stomping a pregnant women in the belly. "Timing Chains of the Heart" is a twisted love triangle between a man, his 1969 Camaro and the woman they mow down at 140 mph. Only the freakshow-set "Carnival Knowledge" disappoints, because Kewber Baal's wispy art appears unfinished or at least just too light for the printing.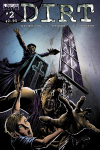 DIRT #2 is more of the same, more TWILIGHT ZONE than TALES FROM THE CRYPT, although the opening "You'll Never Walk Alone" sure is grim, with a drunk redneck and his son holing up in a church while zombies surround it outside. "Dumb Luck" is an amusing morality tale of a Hollywood producer whose world comes crashing down when he ignores a chain letter; a talking mailbox is involved. Finally, "Second Chances" is a noir narrative between two men in a shadowy alley, with elements that reminded me of the recent film LEGION. Like many indie comics nowadays, DIRT is in black-and-white to keep costs down, but you won't miss the color.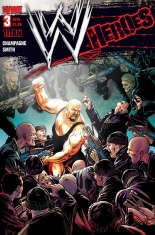 Even if, like me, you don't watch pro wrestling, there's plenty of craziness in Titan's WWE HEROES #3 to satisfy the curious. The premise is this: A crazed reverend is holding 70,000 people hostage at a Wrestlemania event. He's already killed Jericho and Triple H, so the other athletes plot to rid the ring of this not-so-holy man. John Cena has an idea, but he's told, "Did you forget you only played a Marine in that movie you did?" Outside the arena, look who comes to the rescue: "Hey — fellas? Roddy Piper. I've got a ton of brothers in that building, anything I can do?" The last several pages detail wrasslin' moves aplenty, capped by a supernatural coda. Weird? You're soaking in it!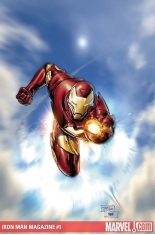 The red-and-yellow tin can graduates to his own officially bimonthly periodical with IRON MAN MAGAZINE #1. Like those of his counterparts Spider-Man and Wolverine, he gets four adventures reprinted into one $6.99 all-ages issue, with slick, full-color pages throughout. The first story basically retells Iron Man's origin from the movie, but without scary international terrorists. The second is rather silly, as he teams with Spidery and The Hulk to babysit Hercules' giant dogs. Things get better when he joins tween team Power Pack to battle metallic robot Ultimo, and that villain turns into an army for the final tale, for which all The Avengers assemble. —Rod Lott