Scouring out the weekly singles scene … in comics!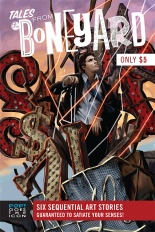 Where Sin City's neon signs go to die is called the Boneyard, and TALES FROM THE BONEYARD is an anthology of six stories set within that dumping ground. Although the half-dozen tales share that site, they're wildly different in style and subject, from a homeless man taking refuge there to a runaway girl meeting a robot, from a Spider-Man parody to an alien invasion, from a daft first date to a futuristic hellhole. From boutique publishing house Pop! Goes the Icon, BONEYARD is a benefit comic for the Vegas Valley Comic Book Festival. The event celebrates the creativity of comics, and this one-shot certainly qualifies. Even if you're never experienced Las Vegas, there's something here for you, from comedy to tragedy.
Speaking of TALES, Papercutz has dug up TALES FROM THE CRYPT #9: WICKEDER. EC purists need to get over the fact that this isn't the CRYPT of yesteryear, but a MAD-style spoof series intended for young adults. With that frame of mind, you can enjoy it for what it is. In this issue, that's another DIARY OF A WIMPY KID parody starring the Stinky Dead Kid; a WICKED parody that really skewers THE WIZARD OF OZ more than the Broadway play; and — how's this for timely? — a brief bit on an offshore oil rig where things go wrong. There's also a preview of Papercutz's HARRY POTTY AND THE DEATHLY BORING. While the contents may not be all sharply written, the art is tops.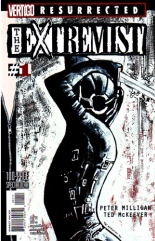 I'd never heard of THE EXTREMIST before, but thanks to Vertigo for collecting all four issues of the 1993 series in VERTIGO RESURRECTED: THE EXTREMIST #1. Written by Peter Milligan and drawn by Ted McKeever, the sexually charged story involves Judy, a pretty young widow who learns her husband was into some pretty freaky S&M shit (sometimes literally), not to mention freelance assassin assignments, when she finds his head-to-toe black leather suit. (Where the face would be, there's a metal ring, but if you squint, it looks like a cruel smile.) To find out who killed him, Judy dons the suit and sword herself, and trolls the deep, dark streets and sex clubs around town. It unfolds in a unique manner, and you've not read quite anything like it. I loved it. For adults, naturally. —Rod Lott