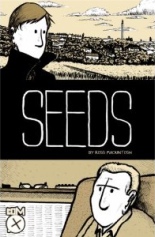 SEEDS, Ross Mackintosh's debut work, is a brief autobiographical recalling of his father's death from cancer … and yes, it's a graphic novel. So if nothing else, the author proves once and for all that even the most serious topics — like death and personal loss — can be presented with honest emotion, sincerity and empathy in cartoon form.
In July 2009, Mackintosh learns that his father has been diagnosed with prostate cancer. He tries to take it in stride at first. After all, his father had survived a triple bypass operation several years earlier. But this time, it's different; this time, all the doctors and specialists tell Mackintosh the same thing: His father is dying.
Mackintosh details his father's stay at the hospital, his brief return home, and his final days at a hospice. Through it all, Mackintosh recalls his father — a humorously irascible, but hard-working man who saw a steady income as the ultimate sign of success — as his body deteriorates to where he can hardly control his bowels, and his voice becomes a harsh whisper when spores of the disease — the seeds — lodge in his throat.
 
From start to finish, Mackintosh reflects and ponders on the frailty of life, the true meaning of love and progeny, and the task of learning to deal with the loss of someone who is such a dominant presence in his life. These moments tiptoe tenderly toward pretension, especially when he seeks the counsel of an unnamed, bearded friend who knows much about art and philosophy. Fortunately, these moments are short-lived, and what resonate are the lessons Mackintosh learns by himself.
 
The story is presented in mostly unadorned, black-and-white drawings laid out generally in uniform, six-to-a-page boxes. Yet Mackintosh's art is effectively emotive, especially when he eschews dialogue entirely like the scene where he and his mother embrace each other in first a medium, then long-shot box. Also amazingly evocative are the moments when his characters appear without a mouth, such as the illustrations of Mackintosh and father that appear on the cover.
It's easy to imagine copies of SEEDS given out to families at grief-counseling sessions or to those who are about to lose a loved one to terminal disease. The author himself might not approve, as he obviously intended his work to be an intimate expression rather than something instructive. Or as he states in his introduction, "This is not a book about death. It's a book about my Dad."
 
Yet, by keeping his story so personal, Mackintosh has hit upon something universal. Ironically, the manner and format he chose to present his story may seem incongruous at first, but it is one he is familiar with and very good at — and one that we all can approach and understand. —Alan Cranis