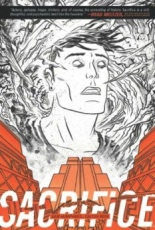 I hadn't heard of SACRIFICE before it was passed to me for review. Apparently, Sam Humphries (AVENGERS A.I., UNCANNY X-FORCE and a few more Marvel things) and Dalton Rose self-published all but the last issue before it sorta vanished for a bit. Dark Horse decided this was unacceptable, helped the guys produce a final issue of material, and now has produced a collection of the whole series.
I can't blame myself for missing it the first time. I try to keep an eye on interesting new comics work, but there is just so much coming out of so many small presses that I miss things. And, honestly, SACRIFICE has a weird-enough high concept that is far enough outside even my eclectic wheelhouses, I may have written it off. I really shouldn't have.
SACRIFICE is about Hector, a Mexican-American epileptic whose seizures transport him back in time to the final years of Aztec culture's existence. Hector discovers that the Aztec power plays aren't quite how they wound up in the history books, but they're close enough he knows the players. His seizures also give him a unique position within the Aztec culture as they "allow him to enter the spirit world." Hector uses everything he knows and is to try and change a tide of history he felt was unjust since boyhood.
Don't let that high concept throw you. This book has a plot that is utterly compelling even before you discover how strongly portrayed the various historical and modern characters are. The art is beautiful and complex, rendering slacker T-shirt and jeans or hospital gowns with just as much care and eye for detail as the Aztec costumes.
And let me give a word on history from a history guy right quick: I don't know enough about Aztec culture or the history of the Spanish conquest to know whether I'm getting a history lesson, an alt-history lesson or historical fantasy. But, as a guy who loves his history, I can tell you it feels like I'm getting a history lesson via historical fiction. It also made me want to learn more about the period. That's powerful.
SACRIFICE has, among other things, Aztec culture, the Spanish conquest of the New World, time travel interacting with ancient spirit worlds, epilepsy, Joy Division lyrics and throwing punches against the implacable brick wall of history until you shatter and bloody your knuckles. If any of that sounds at all interesting, then read the book now.
If none of that weird stuff sparks your interest but you love vibrant art and well-developed characters making hard decisions and sacrifices, then SACRIFICE is going to be very much worth your time.
Humphries and Rose left it all on the field with this book and Dark Horse did us a favor getting it to the finish line. I kinda feel like I owe them all thank-you notes. —Joshua Unruh