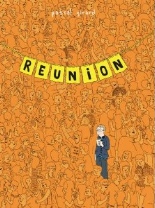 Having recently attended my high school reunion, I can sympathize with Pascal Girard's extreme anxiety in going to his approaching 10th, in his autobiographical graphic novel, REUNION. I wasn't among the popular crowd, either, so the thought of seeing those people again after a decade of not seeing them was terrifying. I agonized over it for months; Girard does the same for 152 pages.
In his sparse, simple cartoony style, he frets and fears the get-together so much that he forgets to RSVP with payment. He also tells little lies to classmates to appear "better" — or at least better off — and sheds several pounds in hopes of landing That Girl. Dream on!
REUNION is real, wry and cathartic, knowing someone had a worse time than you. (And actually, mine was fun. Decades are great equalizers.)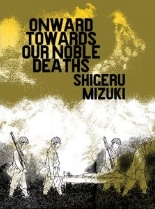 On the flip side of fun but an equal plane of quality is another new release from Drawn & Quarterly, Shigeru Mizuki's ONWARD TOWARDS OUR NOBLE DEATHS. Appearing in its first English translation, the Japanese work was originally published in 1973.
Set in New Guinea at the end of 1943, the World War II tale is like any other you might read, with the marked exception of being told through the POV of one of America's then-enemies. Just looking at most of the situations or dialogue, you wouldn't know it, suggesting that war is indeed hell, no matter your allegiance.
ONWARD's three-page cast of characters that opens the 368-page volume is quite intimidating, but Mizuki's story is presented so episodically, familiarity with each and every officer isn't required. They sing dirty songs, talk about getting laid, and — when the shit hits the fan — fight. Those battle scenes are depicted largely without words, save for sound effects, and they stunning.
Mizuki's art is close in nature to Osamu Tezuka; ditto his grounded, epic storytelling, especially at the bitter end, so RIYL and all that jazz. —Rod Lott