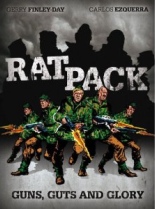 Coming from the pages of the UK comic BATTLE, we have Gerry Finley-Day and Carlos Ezquerra's RAT PACK: GUNS, GUTS AND GLORY, a fine collection that is a more violent version of DC's THE LOSERS: a group of men sent on suicide missions, more or less, but always pull it off. The main difference between the two series is that the Rat Pack is made up of four convicts and their commander.
The book starts out with an interview with Pat Mills, who would later go on and create 2000 AD and a whole slew of characters. It seems to be an interview from a few years ago, since he references Quentin Tarantino starting work on a "remake" of Enzo G. Castellari's INGLORIOUS BASTARDS and explains how he wanted a strip that was a smaller version of THE DIRTY DOZEN.
The team is made up of your requisite brute, a coward needed for his other traits, a marksman and an all-around bastard. Each story/strip included is self-contained. They never pass five or six pages and are wall-to-wall action. The setting changes each time; in one, the group has to invade a sub base, while the next week would put them in the desert on their own.
DC would never pull off some of the things here, since it's violent. One image in particular is of a ski pole impaling a German solider. But there is also humor to go around. The cover is a bit misleading, since Finley-Day was not the only author to the strip. The same goes for art chores; while Ezquerra was the original artist who would handle the bulk, he was not the only one in this collection.
Since this is marked as a first volume, hopefully that means we will get future volumes. Titan Books has put out a great collection here that most Americans probably have never heard of. The reproduction looks great, but it's clear that some pages were originally in color, mainly in the opening page or two-page spread. Nevertheless, this a great collection of strip that is packed with more than 20 adventures, and can proudly sit next to all my other war-comic collections from those other comic companies. —Bruce Grossman